Kitchen gardening is the latest trend and people are moving towards the natural approaches of growing healthy vegetables and fruits. Now the question arises that how will you protect your garden from disease carriers, insects, weeds and other pests, causing damage to your vegetables and fruits?
Synthetic fertilizers or artificial pesticides do not only contain deleterious chemicals but these are also extremely hazardous to your health.
So, is there a way out to deal with this problem? The answer is YES! following up in this article we are going to give you some tips and tricks and, the list of some natural, homemade and non-toxic pesticides, their recipes and application procedures to treat plants with these non-toxic DIY pesticides.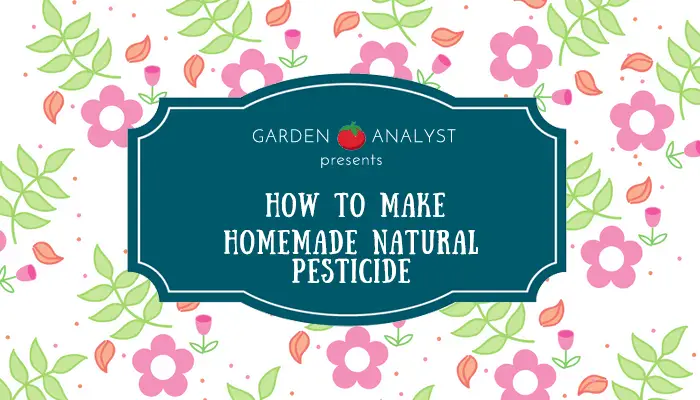 What are Natural Pesticides?
Pesticides (synthetic or natural) are the substances used to manipulate, destroy, prevent, mitigate or repel the pests or disease carriers. They are classified into various types according to their performance against specific pests such as weedicide, insecticides, fungicides, rodenticides and so on. Natural pesticides are the non-toxic pesticides derived from the natural or organic sources might be from your kitchen.
How To Decide Which Homemade Pesticide For Your Plants?
Before choosing a perfect natural pesticide for your plants you need to know about the targeted pest and the exact cause of plant damage.
Here are some points you should be clear about before deciding a pesticide for plants:
You must double check the pest (weed, insect, fungicide etc.) that is the main reason of plant or crop damage.
You must be sure of the number of the specific pest that can be deleterious to your crop/plant and gather some knowledge about the life cycle of that pest.
It is said that prevention is better than a cure. You need to take precautions and beware of the pests that can attack your plant and then change the environmental conditions or factors for their prevention.
List of Homemade Natural Pesticides
Organic pesticides are the natural and non-toxic means to eliminate the pests for the production of healthy crops or plants. Below are a list of homemade natural pesticides, their recipes, and their treatment procedures.
Healthy food should be the foremost priority to live a healthy and luxurious life. Most of the food and vegetables you buy from the market contain residues of artificial chemicals and pesticides in them. We recommend you to grow your own food using the organic approach. For this purpose, we have designed this article which will help you to find some economical, homemade, natural, organic, non-toxic tips and tricks to combat against the pest problems in your kitchen garden. This will also help you to take a step forward toward a healthy and hefty life.