You have a terrible brown thumb? Or you consider yourself a poor and forgetful gardener? Don't worry, ZZ plant is a perfect plant for you! Even if you badly neglect it for weeks, it will still look healthy, attractive and decorative. Gardeners just adore the ZZ because it's easy to grow, tolerant of wide range of conditions, and pest-free! Learn how to get the best out of your ZZ plant.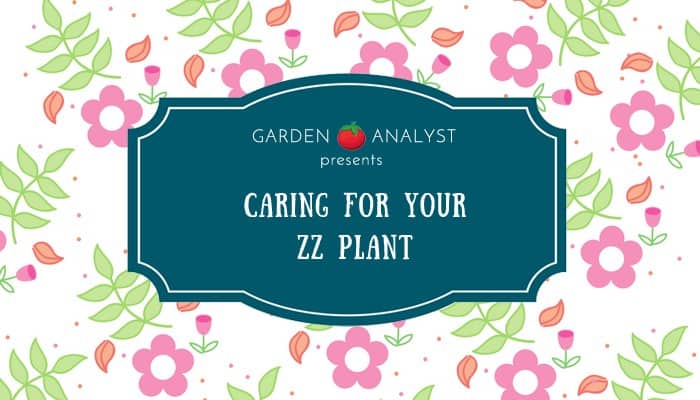 What is a ZZ Plant?
You probably know this ornamental plant by many names – Emerald Palm, Eternity Plant, Zanzibar Gem or Zuzu plant. The most common name comes from the Latin name Zamioculcas zamiifolia, hence the shortened version ZZ (pronounced Zee-Zee). This is the single known species in the genus of Zamioculcas.
The plant is valued because of its attractive, dark green foliage while flowers aren't really of interest. Oval-shaped, stylish leaves look glossy and shiny and that's the main reason why people often think it's an artificial plant when they see it. This plant can look extremely healthy and shiny, almost plastic, even if neglected for weeks, or even months!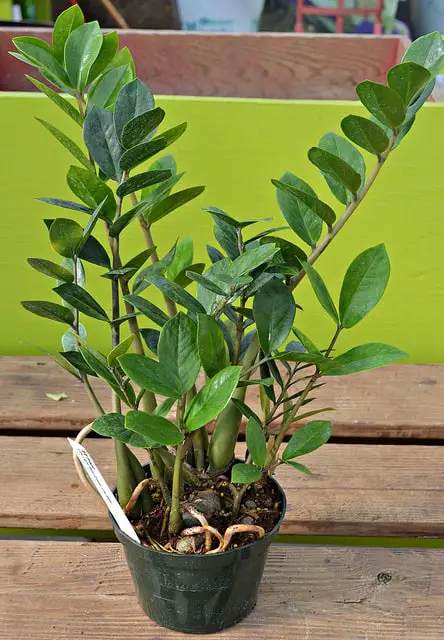 Each stalk of the plant has a potato-like, succulent rhizome (a tuber) which preserves water during drought, so you can treat the ZZ plant much like cacti and other succulents.
Flowers are produced on a small bright yellow to bronze spadix and occur in mid summer. The flowers are sometimes hidden among the leaf bases.
The plant is native to warm climates of eastern Africa, therefore it's grown as a houseplant in temperate regions. In warm climates it can be still grown outdoors, but as long as the temperature doesn't drop bellow 59 °F (15 °C). It is a slow grower but it can reach heights of 2 to 3 feet.
ZZ Plant Care Instructions
As previously said, this plant really doesn't need much care and it will be the best if you just forget it for a while. Just find a suitable position for it, and the ZZ will do the rest by itself.
Light conditions – It prefers a moderate, indirect light and morning sun over bright, full sun positions. Avoid harsh, direct sunlight because it leads to curling and scalding leaves. You can place it north, west or east facing windows, or even in a windowless room. It handles any low light positions.
Water – Considering the plant's succulent rhizome, which acts as a water reservoir, treat it like any succulent plant. It really has low water requirements so keep in mind that the ZZ plant will most likely die due to overwatering than underwatering. Water it heavily and thoroughly but occasionally. When you watering your garden plants or house plants, just skip watering the ZZ. It will appreciate it.
Temperature – The plant is adapted to warm climates and it's quite resistant to the prolonged periods of drought. The perfect air temperature varies from 65° to 79 °F (18 °C to 26 °C). Hot temperatures will increase the production of leaves. Keep it away from frost and temperature drafts.
Soil and fertilizing – The ZZ Plant doesn't need any specific type of soil. It will work with any well-drained soil and it's quite happy without a fertilizer.
Repotting – All plants with tubers eventually need repotting cause rhizomes grow and expand filling the whole pot. The repotting process is quite simple and should be done in spring.

Take the plant carefully out of the pot and remove any rhizome that looks unhealthy or smell bad. Put it in a new pot which should be one size larger than the current one. Water it thoroughly, put in indirect sunlight, and water it when the soil is significantly dry.
How to Propagate a ZZ Plant?
This lovely plant has another thing in common with some succulents besides low water requirements – it can be propagated using leaves.
Leaf propagation – Pick a healthy leaf, place it in a pot filled with soil, sticking the cut edge in the ground. Keep it in a warm place and water it occasionally. Although this propagation method is really, really slow, and it takes time for a new growth stem to emerge, there's no reason why you shouldn't try this method if you're patient enough.

But if you're a bit impatient, go for a more common methods – stem cuttings or rhizome division. These methods are slow too, but not as much as propagation through leaves.

ZZ Plant Leaf Propagation

Rhizome division and propagation through stem cuttings – Take 3-4 rhizomes and put them carefully in a new pot. Or cut the stem just above the soil and root it in water. The rooting process is very slow, and if you have luck, the plant will root in a few months.
Why Are The ZZ Leaves Turning Yellow?
Issues with ZZ plant are minimal so this plant is often recommended to people with a poor gardening knowledge. Even those who have never had plants before could manage to grow a ZZ plant successfully. Nevertheless, people sometimes complain about yellowing and dropping leaves.
If you notice any of these, the ZZ is probably getting to much direct sun. Remove it to a shadier position. Also, reconsider your watering routine, perhaps the ZZ is getting too much water or even has 'wet feet'. Unfortunately, once leaves are turned yellow, they don't recover, but when you rescue your plant it will start producing new leaves shortly.
Is ZZ Plant Poisonous to Animals?
ZZ Plant contains one of the most common plant toxin – calcium oxalate in the form of tiny crystals, which can burn mouth and throat when ingested. The plant's sap can even cause skin irritation when handled without protective gloves.
Stomach upset, vomiting and diarrhea are usual symptoms of poisoning by the ZZ plant's parts. So, if you have inquisitive kids or curious cats, for example, grow a ZZ plant with an extra caution and keep it away from children and pets.