With more than 360 species and dozens of hybrids being developed and released regularly, Grevillea genus can satisfy anyone's taste. Regardless you're looking for a shrub, ground cover or even a tree, you can find what you're looking for among wonderful Grevilleas. Read this guide to learn how to properly care for the members of the Grevillea genus.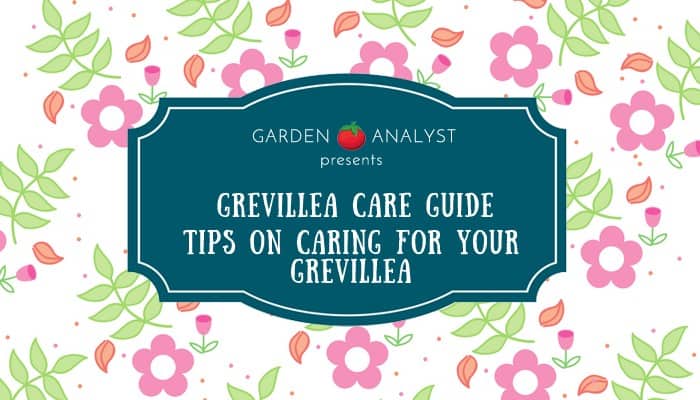 What is a Grevillea plant?
Grevilleas are flowering plants native to Australia, but fortunately, these lovely, exotic plants nowadays brighten up gardens and homes worldwide. Although rainforests and tropical regions are their natural environment, they can be cultivated in temperate and subtropical climates. In some regions, they need to be grown as houseplants while in warmer climates they can be grown outside. All you need to do is to pick a variety or a hybrid which will thrive best in cold climates.
Due to the various living conditions, members of the Grevilleas genus are extremely diverse in their forms, growth habits, sizes, the shape of flowers, and foliage. This genus includes trees, small shrubs and ground covers. They are mainly prized for their amazing flowering habit – some varieties can produce exotic, vividly colored flowers during the entire year!
What Are Some Popular Grevillea varieties?
New, more resistant and more gorgeous hybrids are produced daily. Here some of the most popular Grevillea varieties.
Grevillea Robusta
If you're looking for a tree with a fast growth rate, this is a perfect choice for you. It can grow up to 98 ft (30 m) high, with upright growing habit while the lower branches have the tendency to slightly spread.
Despite the common names – Silky oak or Australian silver oak, this evergreen tree it's not actually related to Oaks and the genus of Quercus. This tree is the largest variety among all Grevillea varieties. It's usually grown in subtropical areas, but it's naturalized beyond its native regions (Hawaii and southern Florida for example).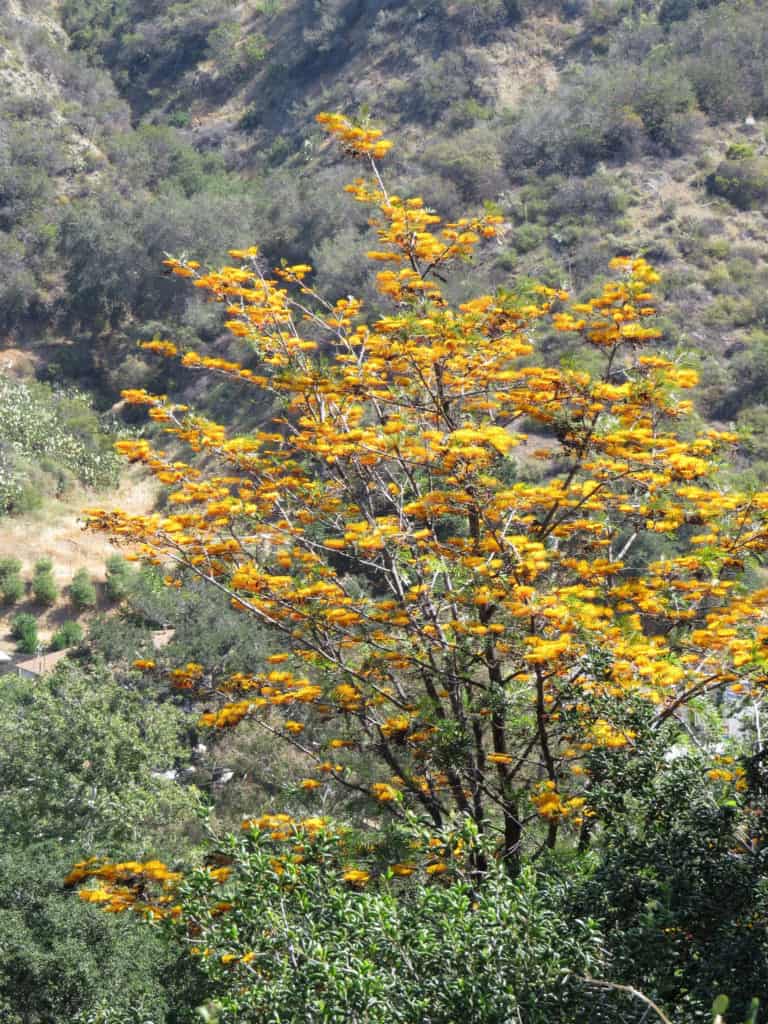 You can grow it outdoor unless the temperatures don't drop below 18 °F (−8 °C), but keep in mind that young plants should be protected from frost until they grow and become more hardy.
With this beautiful tree in your backyard, you will have the opportunity to enjoy lovely and showy, yellowish-orange flowers of G. robusta, usually occurring in June.
Grevillea 'Noellii'
Unlike other Grevilleas, this variety is native to California and it's known under the name of Noell's Grevillea. This flowering, rosemary-like shrub with mounding growth form tolerates only temperatures above 20-25 °F.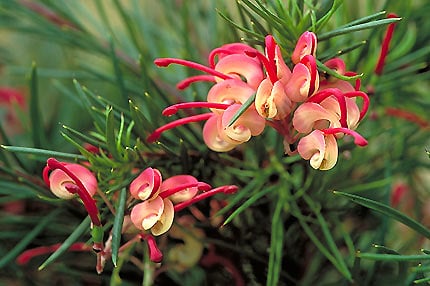 It grows 3-4 ft tall and 4-5 ft wide. It will embellish your garden with lovely clusters of small pink and white flowers and unusual, bright green needle-like leaves. It blooms in spring.
This low shrub is mainly used for slopes, hedges, banks, screen and border plantings, but you can plant it plant it alone as a specimen. It will look best when planted in full sun.
Grevillea lanigera 'Coastal Gem'
This is a very popular selection of a Grevillea lanigera species, commonly known as woolly grevillea. 'Coastal Gem' is a wonderful, evergreen, ground-hugging shrub, prized for its crowded clusters of deep pink/purple flowers which are most prolific during winter and spring.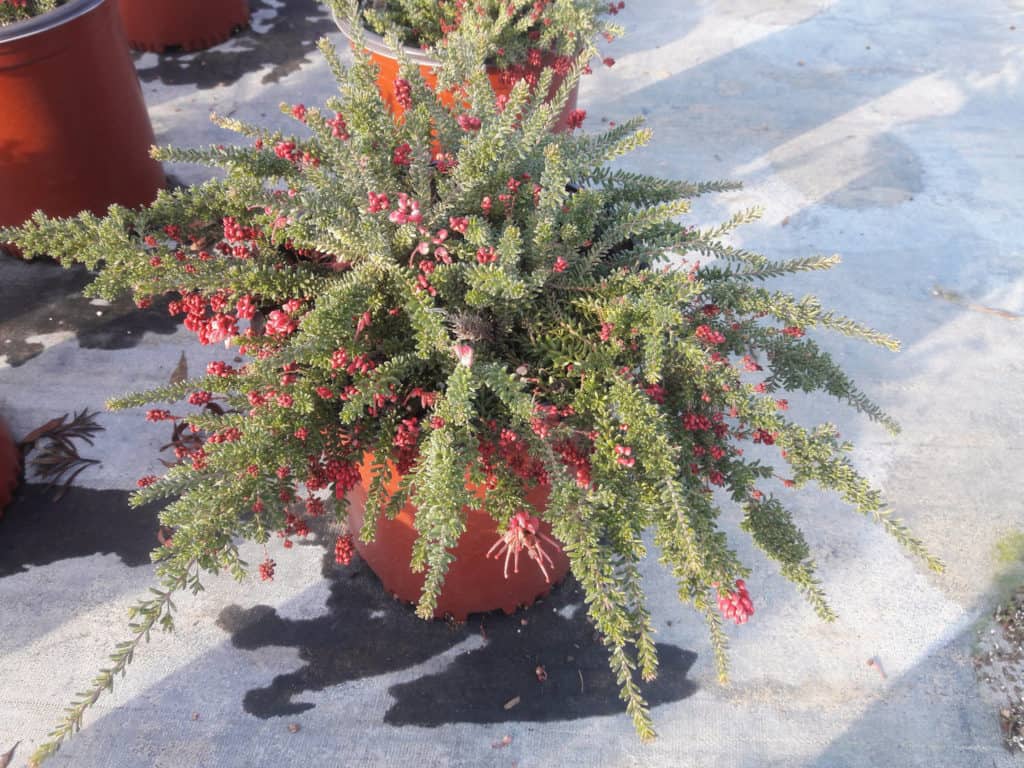 They contrast perfectly with the grayish-green foliage with lots of branchlets and arching stems. The leaves have somewhat a succulent appearance.
This small shrub requires minimal care and it's hardy to 15-20 degrees F. It likes full sun positions and it grows up to 1 ft tall and 4-5 ft wide, therefore it's an ideal ground cover.
Grevillea 'Long John'
This is unfortunately very rare cultivar because it's difficult to propagate. Anyway, if you're lucky enough to own a 'Long John', then its large clusters of distinctive coral flowers surely make an incredible display. These flowers are borne freely at the end of the upright branches covered with narrow, needle-like dark-green leaves.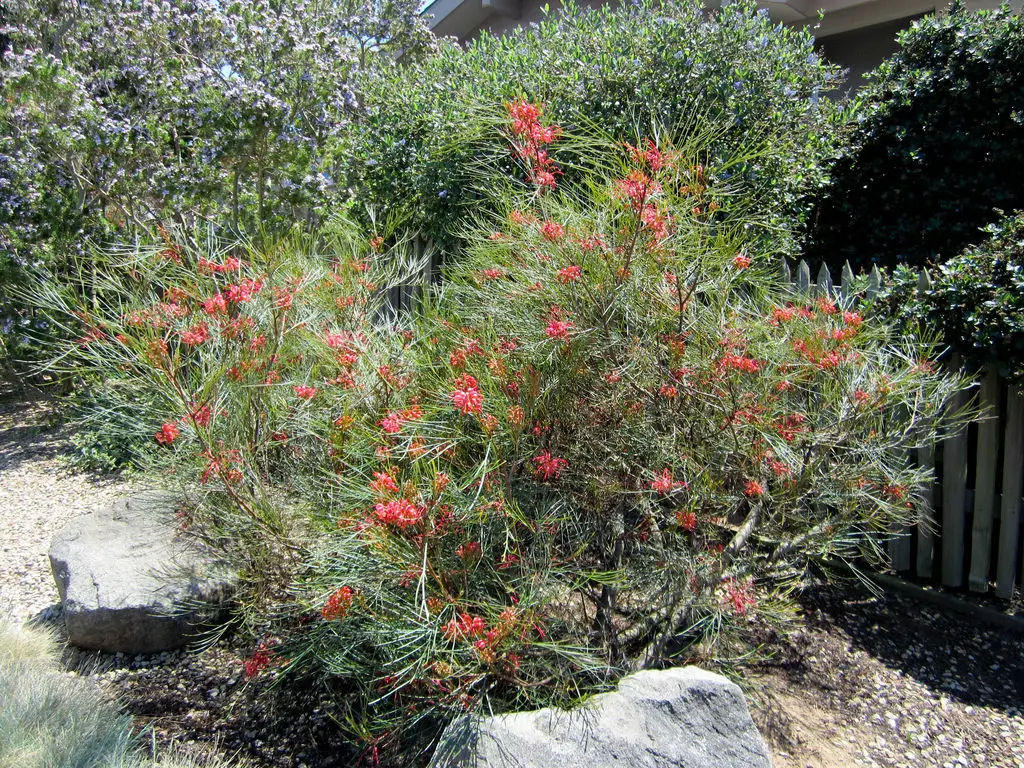 This evergreen shrub grows into a compact, rounded bush, reaching up to 6-8 ft (180-240 cm) in height and spreading up to 4-6 ft (1.20-180 m). With these features, it's ideal as a tall screen. Birds, butterflies, and bees love the nectar of 'Long John' flowers.
Grevillea 'Long John' tolerates medium frost, so you can grow it outdoors in areas where the temperature doesn't go below 25F (-4C).
Grevillea 'Moonlight'
This stunning shrub is a cultivar of Grevillea banksii species. In warm climates it flowers all year round, producing large, creamy flowers in the form of a raceme. The nectar from flowers attracts birds and hummingbirds.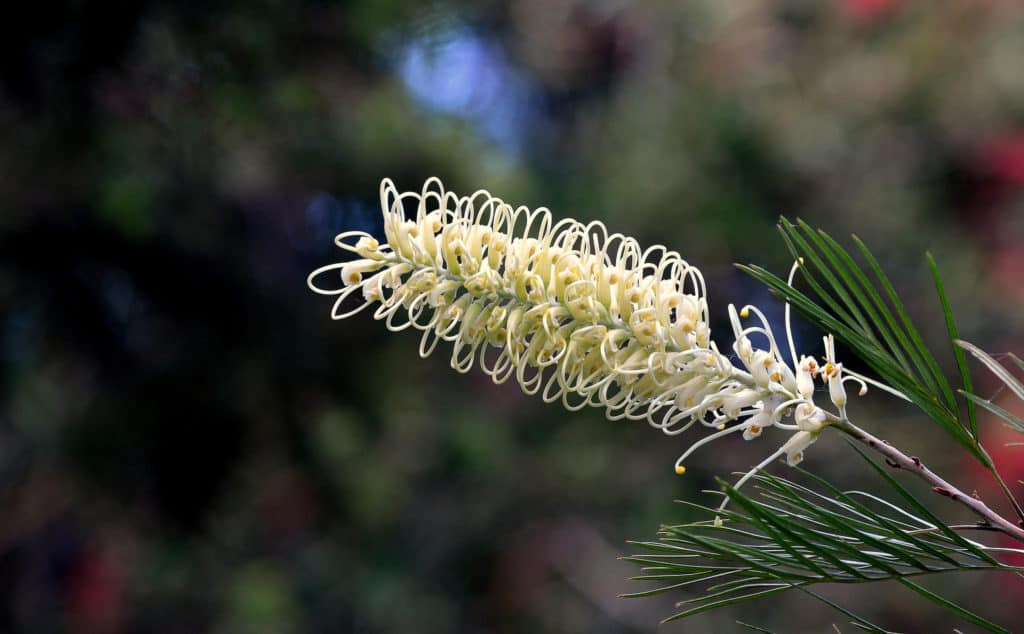 Grevillea 'Moonlight' has an upright, dense growth habit and it can reach up to 8-12 ft (240-360 cm) in height while it can spread 6-8 ft (180-240 cm) wide. With a regular pruning, you can achieve a compact and attractive shape.
The plant is adaptable to regions where air temperatures don't drop below 20°F (−6 °C). It is a great shrub for hedges or screens, used in xeriscape gardening, but also as a specimen plant.
Grevillea 'Victoriae'
This grevillea species is also known as royal grevillea or mountain grevillea. Just like G. Noelli, it is not endemic to Australia. Cultivated in South Wales, this is one of the hardiest grevilleas and it is hardy in USDA hardiness zone 7. It's hardy to 10 °F.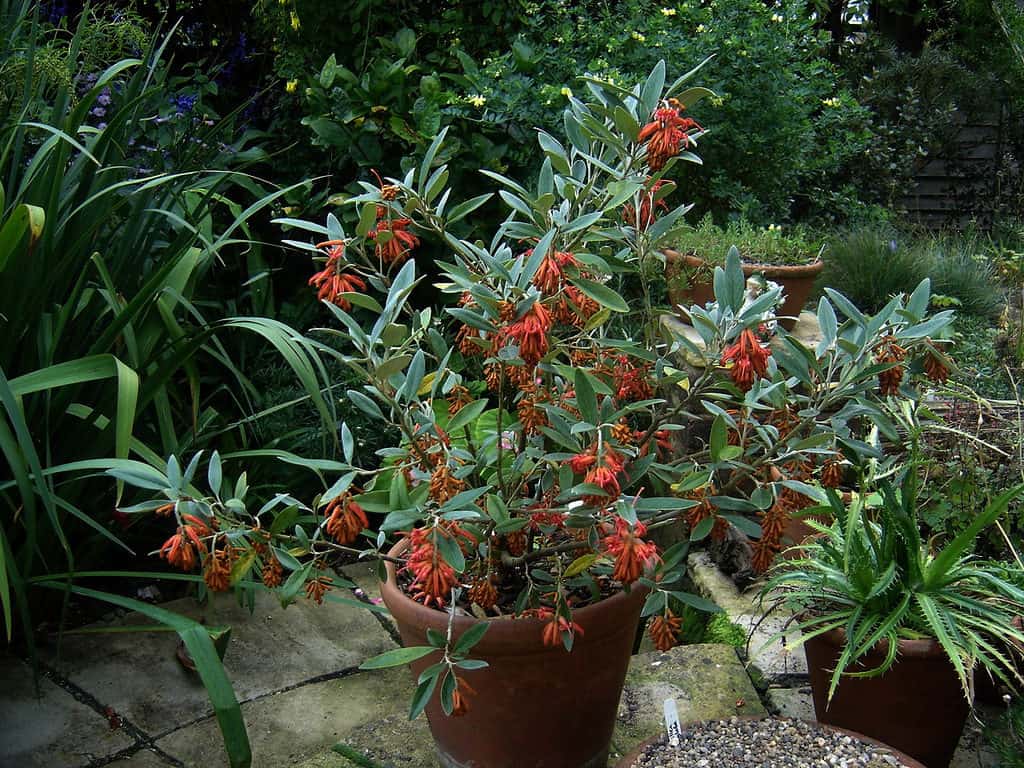 It grows upright, forming an attractive shrub with the grayish-green, broad-leaf foliage. This large shrub can reach up to 10 ft (3.05 m) both in height and width. This ornamental shrub is ideal as a hedge, especially in very dry and exposed sights.
Stunning red-orange buds are present on the shrub from fall to late winter, when buds start opening. These blooms stay on the plant through the entire summer, supplying hummingbirds and bees with its nectar.
Grevillea 'Robyn Gordon'
This is one of the most popular among all grevilleas, 'Robyn Gordon' is a selection of G. banksii and G. bipinnatifida, used widely in Australian ornamental gardening.
Everyone just loves this small shrub cause it has such a compact shape and it produces bright pinkish-red flowers through most the year. These wonderful flowers attract birds, so growing 'Robyn Gordon' is the perfect way to bring nectar-feeding birds to your garden.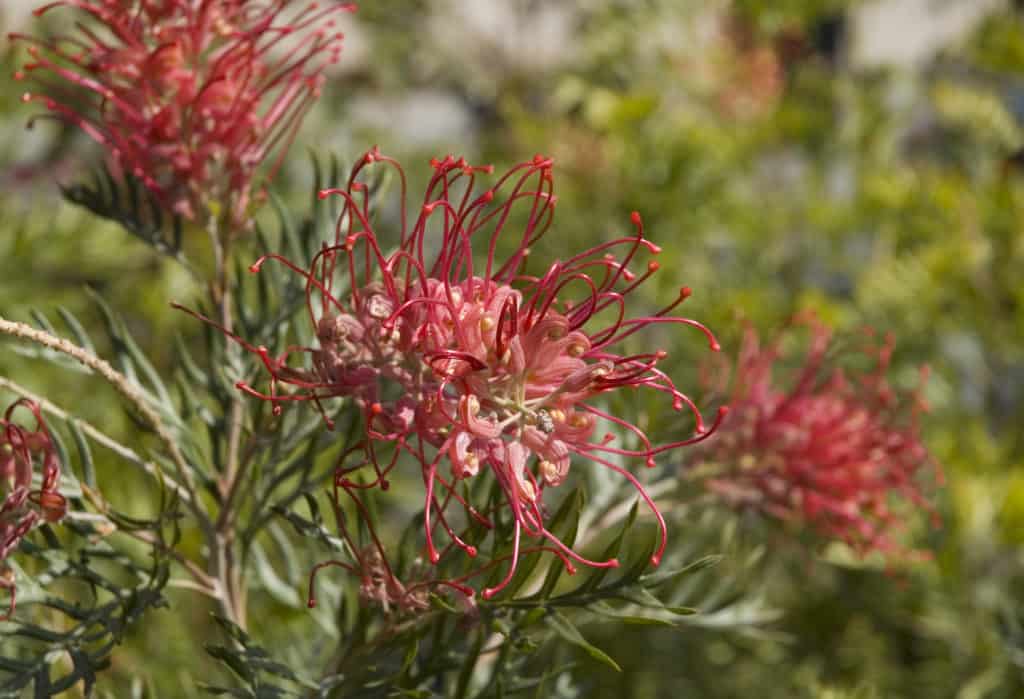 Dark green foliage looks like a fern and with minimal pruning, it can be shaped to look very compact and attractive. Grevillea 'Robyn Gordon' grows up to 5 ft (1.5 m) high.
It is mainly grown in warm, Mediterranean, tropical and subtropical climates, but it can tolerate light frost.
Grevillea 'Superb'
This is also a G. banksii hybrid and it's quite similar to Robyn Gordon cultivar, but 'Superb' flowers have more orange coloration than the R. Gordon. Actually, the flowers contain shades of orange, red and yellow, therefore this selection is widely used in ornamental gardens. It flowers through the entire year, which is one of its greatest features.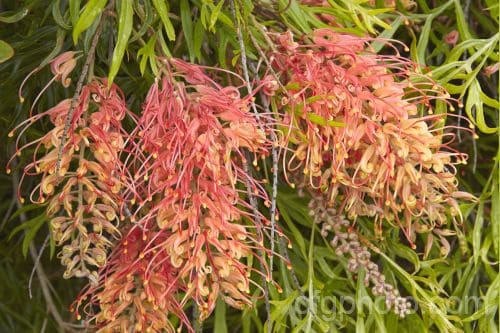 Another advantage of Grevillea 'Superb' is a fast growth rate. This is a perfect evergreen shrub for a hedge in frost-free climates, but it is also grown as a specimen plant.
This grevillea tolerates moderate frost and will do best in a sunny position. It doesn't tolerate temperatures below 25 degrees F (-3 C).
Tips on How to Care for Grevillea
No matter how diverse is the genus of grevillea, the basic care is the same for almost all species and varieties. They are highly adaptable to almost any environment and generally low-maintenance plants.
Grevilleas love the sun and sunny positions, but they will do just fine in light shade. They are adaptable to a very wide range of soil types as long as the soil is well-drained. They tolerate a poor soil so as any pH soil level (acidic, neutral or alkaline). Keep in mind that grevilleas can't stand a fertilizer that's high in phosphorus, so avoid it.
Grevilleas are also drought- tolerant plants, but young plants need a lot of water during the first growing season until they become established in the garden. Just like many plants, they don't tolerate water logging.
Basically, water them frequently during warm summer days, while rainy periods provide them with sufficient amount of moisture. Once a week will be enough, or more in the case of drought and extreme heat.
They are mainly propagated by cuttings or seeds, depending on a variety. Prune them regularly, in fall, to achieve a compact shape and encourage them to produce even more flowers. Just cut them back by 1/3 to ½ of their size and be sure to remove all wilted flowers as they occur.
The great thing about grevilleas is that they are pest-free and they have a few pest problems. They are rarely bothered by insects thanks to the birds they attract. Borers and scales are common grevillea pests while overwatering can cause severe damage to plant's root.
Be cautious with these plants, because many grevilleas cause allergic contact dermatitis and skin irritation, while the fruits and flowers of G. robusta, for example, contain toxic hydrogen cyanide.