A decorative, easy-care flowering plant and an air cleanser – that are main reasons for the widespread interior use of Peace Lily. Among many Peace lily species and hybrids, Spathiphyllum kochii, a mid-sized variety, it is renowned as an ornamental landscape plant. Read on to learn how to care for this plant and Spathiphyllum in general.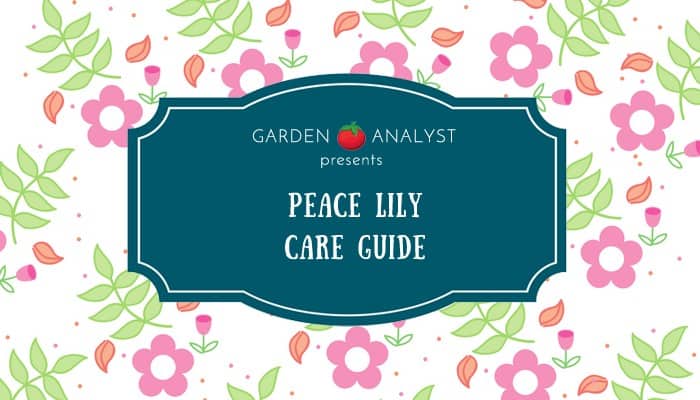 What Is A Peace Lily Plant?
The plant known botanically as Spathiphyllum is a genus in the family of Araceae. Despite the name, these perennials are not true lilies. The Spathiphyllum genus, commonly known as Peace Lilies or Spath/Spathe, consists of about 40 species and many hybrids, and they all have a very similar look, though they come in many varieties and various sizes. These evergreen, perennial plants are native to tropical rainforests of South America, Central America and the southeastern Asia, where they thrive outdoors, but they are cultivated around the world as houseplants.
Spathiphyllum has large, usually 12 to 18 inches long and 3 inches wide, lush, dark green leaves. They bloom in spring, forming a distinct, white (or sometimes yellowish or brownish) flowers in the form of spadix – a type if inflorescence having small flowers borne on a single stem. What is usually thought to be a flower is actually a modified, petal-like leaf. This white leaf forms a sheath to enclose the flower cluster. It is typical for the plants of the Araceae family, but it's also found in palms, arums, Irises, Crocuses etc.
The NASA Clean Air Study found that Spathiphyllum helps filter the surrounding air of various toxins such as benzene and formaldehyde.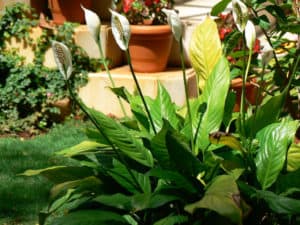 Peace lily is quite simple to care of –there are several basic rules to follow in order to keep you plant happy and healthy.
It doesn't require sunny positions or frequent watering,  so if you have a shady and low-light spot somewhere in your house, that is an ideal place for this plant.
Peace lily grows best in a shade or under a low-light conditions.
You can place it in in a bright spot, but with indirect sunlight. It prefers a temperature between 65 and 80°F and it doesn't like extreme cold and can't tolerate temperature drafts.
How Often Do You Water a Peace Lily
Many people make a mistake when they water Peace lily frequently. Peace lily is one of those plants that likes being a slightly disregarded when it comes to watering. It actually prefers a dry soil over damp one. When you water it, water it a lot at once, and let the soil dry out before the next watering.
A good thing with this plant is that it will "tell" you when it's thirsty. The leaves will start drooping slightly – that is a sure sign that your Peace lily needs water. Depending on air temperature and light conditions, time between watering may vary, but it should be watered approximately about once in a week. Just pay attention when the plant start to sag and you can be sure it's time for a refreshment.
Overwatering can lead to a rotting roots. To prevent it, make sure your Peace lily has a good drainage. A soil that dries out quickly and a pot or a container that has several holes for drainage are mandatory.
What is the Meaning of a Peace Lily
This intriguing and beautiful plant has a various symbolic meanings, but it is usually a sign of purity, innocence, hope, sympathy, and, as the name indicates – peace. In Christianity, it it associated with Virgin Mary, therefore it symbolizes purity and innocence. It is also a symbol of rebirth and eternal life, so it's often sent as a sympathy when someone dies.
It's also believed that Peace lilies are associated with physic balance – they have strong healing, protective, and cleansing vibrations. They harmonize the house's energy and the presence of Peace lily makes you calm and relaxed. Therefore these lovely plants are often used in Feng Shui to balance the flow of energy. Peace lily can neutralize radiation emission from electric devices in homes such as televison, computer etc. If you grow a Peace lily as a houseplant, it will bring a sense of peace and harmony to your home.
Are Peace Lilies Poisonous to humans?
True lilies are extremely toxic to humans, while Peace lilies are just irritating and mildly toxic. The plant produces calcium oxalate crystals that can cause skin irritation, so make sure to wash your hands after handling your Peace lily.
If a person or an animal ingest the plant, these crystals can cause a burning sensation in the mouth, nausea, stomach ache, difficulties in swallowing etc. To avoid such scenario, keep children and pets away from the plant as much as you can.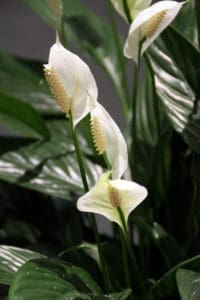 An interesting fact is that the young flowers or young leaves of Spathiphyllum kochii were usuallly eaten in Central and tropical South America, where these plants are native to. But just in case – don't try this at home!
Different Species of Spathiphyllum
As previously said, there are about 40 species and several dozens of Spathiphyllum hybrids, but not all of them are suitable for growing as house plants.
The commonly available species plant, usually found as houseplants are hybrids, so the true wild species are rarely cultivated in homes. The most likely used species to create the Peace Lily hybrids are Spathiphyllum wallisii, Spathiphyllum floribundum, Spathiphyllum friedrichsthalii or Spathiphyllum cannifolium.
It would be the best if you've known the Peace lily name just to know what cultivar you're dealing with. Though the care for all Peace liliy varieties is basically the same, it's always useful to find some extra info on the plant's characteristics and size.
The species and cultivars are usually divided into three categories based on their size: small (12 to 18 in tall) , medium (24 to 36 in) and large (3-6 feet).
Among the small Spathiphyllum plants, the most popular cultivars are:
Annette
Chopin
Patrice
Golden Delicious
Golden Glow
Power Petite
Allison
Wallisii
Some popular mid-sized Spathiphyllum selections are:
Mauna Loa
Mojo
Prima
City of Angels
Sonya
Domino
Ceres
Sweet Pablo
The most popular large Peace Lilies are:
Sensation
Figaro
Sunny Sails
White Lightning