Red Tipped Photinia is a popular shrub, often used for creating a hedge or a fence row. The hedge made of Red Tipped Photinia catches everyone's eye cause it looks colorful and vivid with its gorgeous red and green leaves. Read this info to learn how to grow and care for your Red Tipped Photinia.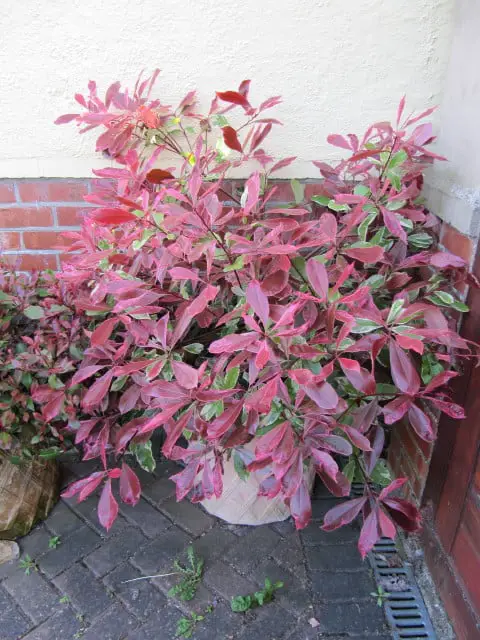 What Is A Red Tipped Photinia?
The Photinia genus consists of about 40-60 species of small trees and shrubs. Red Tipped Photinia is one of the most popular hybrids, scientifically known as Photinia x fraseri. It is a selection of P. glabra and P. serratifolia, named after the Fraser Nursery in Birmingham where it was originally discovered somewhere around 1940.
The most famous cultivar Photinia x fraseri 'Red Robin' has even gained the Royal Horticultural Society's Award of Garden Merit.
The most recognizable characteristic of this evergreen shrub is its foliage. The foliage is mainly glossy green, but young leaves have bright red color. This excellent color contrast makes this plant highly appreciated among gardeners.
Young leaves are dark red or even bronze. As they mature, red color begins to fade until eventually becomes green or dark green.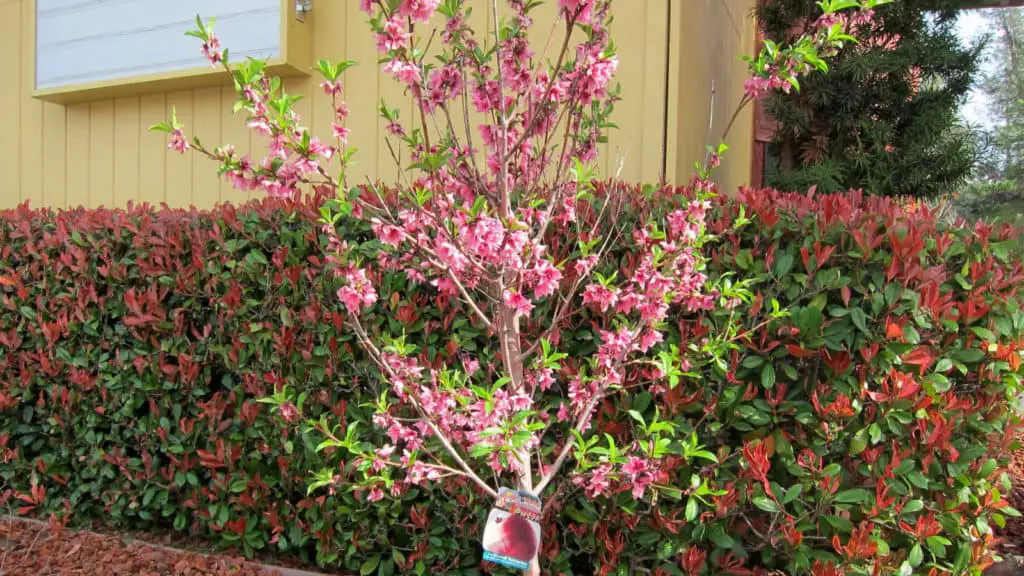 The interesting thing is that you can prolong this beautiful color contrast. Just trim the ends regularly and the plant will produce new, red leaves throughout the year, making an incredible display.
Red Tipped Photinia will do best in full sun or partial shade, planted in a well-drained soil. Once the root system has become established the plant can survive ordinary periods of drought. It can withstand the temperatures to -17.7 °C (0 °F). Red Tipped Photinia is propagated by cuttings because it's a hybrid.
While Red Tipped Photinia has so many great characteristics such as showy colors, fast growth rate and easy maintenance, there's something unpleasant about this plant.
This shrub blooms in late April, producing small panicles of white flowers, but in some people's opinion, these flowers have an unpleasant aroma. That's why they are often eliminated by early spring pruning.
Red Tipped Photinia, so as every member of the Photinia genus, produces a small apple-shaped fruit called pome.
Can Red Tipped Photinia Be Used for a Hedge?
Red Tipped Photinia is a very showy shrub with a great growth habit, so it's perfect for creating hedges, shrub borders, fence rows and mixed beds. Its growth habit is one of its best features besides the beautiful colors.
Actually, the most common way to use Red Tipped Photinia is for a hedge, especially in the eastern half of North America.
As previously said, if you want to have year-round interest, you will have to trim and prune it to maintain the color contrast. Pruning is also needed to maintain the desired shape and turn your shrub into a hedge. Read on to learn how to prune and trim you Red Tipped Photinia.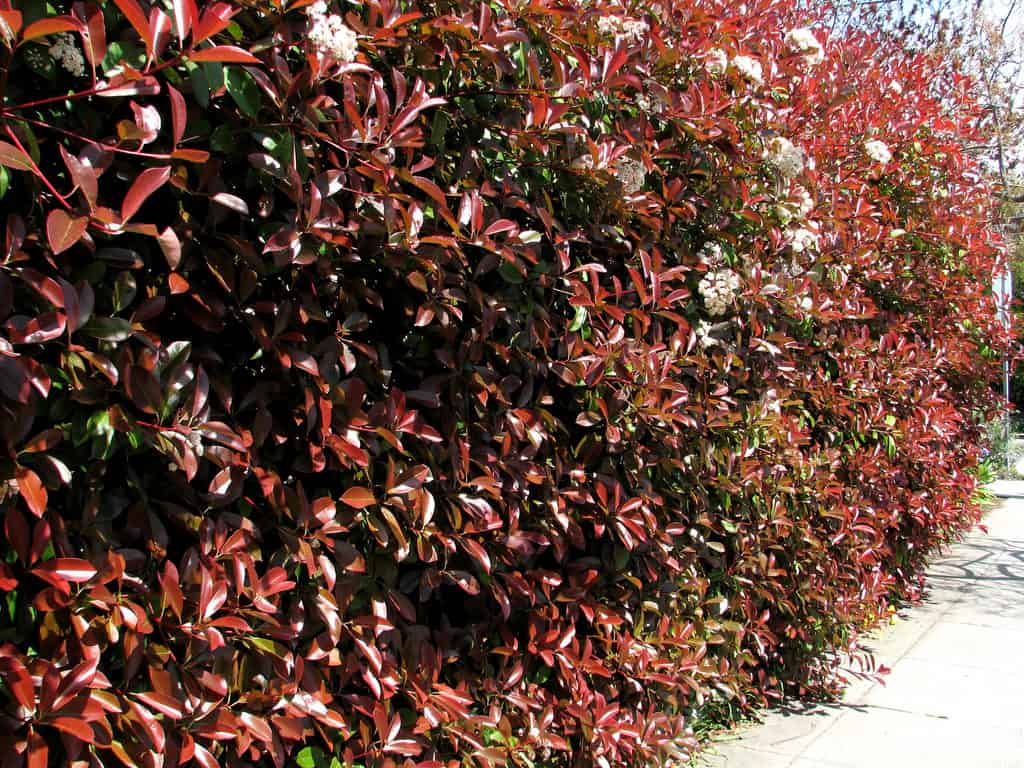 How to Prune Red Tipped Photinia
Red Tipped Photinia is a fast grower so it needs to be pruned on a regular basis if you want to control its size and achieve an attractive shape. Depending on the species and cultivar, Red Tipped Photinia can grow up to 8-18 feet tall and spread 10 to 15 feet wide. It grows at least 2 feet every year.
Regular pruning and trimming will make your shrub well-shaped and tidy, but there's another very important reason for regular pruning. Good air circulation between leaves of Red Tipped Photinia is highly important cause it prevents fungal diseases.
So, the first step is removing all dead and broken branches, twigs and leaves, and afterward removing the branches from the middle of the shrub. This is the best way to increase air circulation, lower the humidity and increase airflow and light around the shrub.
The second step is trimming old branches to encourage the growth of new reddish leaves. It's important to trim it before the fall, cause new leaves need some time to become strong enough to survive upcoming winter and low temperatures.
Red Tipped Photinia tolerates a severe pruning. So don't be afraid to cut out one-half to one-third of the stems every year. The shrub will actually benefit from such hard pruning so cut it back to about 6 inches above the ground.
Common Diseases and Problems for Red Tipped Photinia
If you've noticed purple or red circles and spots on Red Tipped Photinia leaves, the plant may have a disease caused by fungi.
Fungal diseases are most common diseases of the Photinia genus caused by the fungus Entomosporium mespili. Leaves infected by this fungus will eventually fall off and if you don't maintain the leaves dried and if you don't eliminate infected leaves, the fungal infection may start spreading and the plant will probably die. Not immediately, not even during the first season, but in the next few years.
So, if these circles on leaves occur, make sure you don't get leaves wet when you're watering the plant. Moisture creates perfect conditions for the spreading of fungi, as we said before. Fungal disease is another reason why regular pruning is a must – removing the branches and leaves will provide the shrub with fresh, dry air. Good air circulation is essential for a healthy and attractive Red Tip Photinia and it will reduce the conditions in which the fungus thrives.
Also, with a few basics, you can prevent fungal diseases on your Red Tipped Photinia.
When planting Red Tipped Photinia, make sure it doesn't go too dense, cause the lack of air between leaves can cause the common Photinia disease. When creating a hedge, place shrubs further apart. This will provide a good air circulation and in the as of fungal disease it will protect uninfected shrubs because the spores of fungi don't travel too far.
Other common diseases are root rot (caused by overwatering), while the new growth is quite vulnerable and susceptible to scales and aphids too.