The Boston fern(Nephrolepis exaltata) is a very common and popular variety of fern which originated in humid swamps and forests. They can be found in its natural state in the south eastern United States as well as in Mexico, South America, and Africa. Wintering boston ferns are needed in these environments where winters can be harsh. Read on to learn about techniques take care of ferns during the winter months.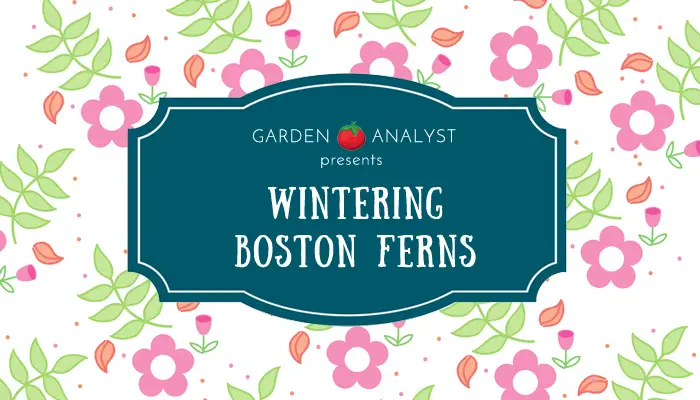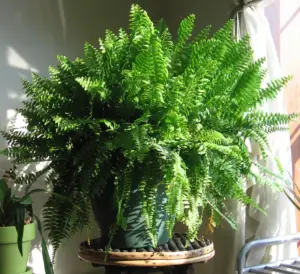 What is a Boston Fern?
The Boston fern is very popular because of how it looks. It has very long fronds anywhere from about 20 inches to 80 inches long (50 cm-250 cm). On those fronds the Boston fern has small leaflets which can range from 1 inch to 3 inches long. The Boston fern differs from other ferns in the look of the fronds. Many other types of ferns have erect fronds that stand out straight from the main stem of the plant. The Boston fern however, has arching fronds that fall down from the main stem. This is what gives the Boston fern such an elegant look.
How to care for your Boston fern indoors and outdoors
The Boston fern is native to humid and tropical climates. They are often found in tropical and sub-tropical climates, and warm coastal environments. Keeping that in mind, the Boston fern needs warmer temperatures to thrive outdoors and indoors. Anywhere between 65 to 75 degrees is a good daytime temperature for Boston ferns.
At night, ferns prefer slightly cooler temperatures than during the day; 55 to 65 degrees is a sufficient range for night time temperatures. If you want your fern to grow fast then keep it in a warmer climate. Temperatures above 80 degrees will rapidly speed up the growth of your Boston fern.
As mentioned earlier Boston ferns thrive in rainforests and other tropical environments. In these places the humidity is usually around 50%. Inside of your home the humidity levels range anywhere from 10% to 20%. These levels are not healthy living situations for your Boston fern. There are a couple of things that you can do in order to help your fern survive in a dryer climate, whether that is inside or outside.
Water-misting your Boston fern on a daily basis – This can be done by filling up a sprayer bottle with water, or using your hose nozzle's mist function and applying a generous amount of mist to your Boston fern.
Mimic tropical and humid conditions – place your Boston fern on a saucer filled with water, and the water will be absorbed by your plant through the bottom of your pot. Be sure to refill the water in the saucer whenever it is dry. This can be quite often in the dryer months depending on your location.
Water generously – it is best to keep the soil moist at all times, but not over saturated. Boston ferns will require the most water during the hottest months of the summer, so be sure to check on it regularly. If the soil gets too dry then your plant will lose its healthy and vibrant look.
Wintering Your Boston Fern
Wintering boston ferns can sometimes be very temperamental. Caring for these plants in the winter can be a challenge, but if done correctly they can still thrive inside during the coldest months of the year.
Sufficient light – location plays a huge role in keeping your Boston fern healthy throughout the winter. One thing you need to make sure of is to place your Boston fern by a window where an abundant amount of natural light comes in.
Heating – take into consideration how your house is heated. If you keep your Boston fern next to a vent that blows out heat for a few hours a day then this will dry out your plant. You want to find a location that is unaffected by your heating system. Boston ferns can survive cold temperatures just not extreme cold so an unused or unheated room would be a perfect spot for your Boston fern during the winter.
Maintain proper moisture levels – Running the heat in your home will dry out the air, and in effect will have your plants dry out as well. To make sure your Boston fern remains healthy it would be ideal to keep it a room that you can maintain higher humidity levels throughout the winter. One way this can be done is by using a humidifier. Another useful tool is a hygrometer, which is used to measure the humidity levels of the air. Combining these tools you should be able to keep the humidity level about 40% in the room with your Boston fern. Misting in the winter does not provide sufficient humidity to your Boston fern.
Water appropriately – During the winter months you do not need to water your Boston fern as much as in the summer. Whenever the soil gets dry apply a moderate amount of water. This should be enough to moisten the soil, but not oversaturate it.
Wintering boston ferns can be an easy tasks if you follow these simple tips and ensure a healthy environment for them.
Pests and your Boston Fern
Boston ferns can be fairly large plants. It is not uncommon for there to be sections of it that go unseen for long periods of time. Check your plant for any sort of pests at least once a week to avoid any damage.
Verify and keep an eye out for spiders or mites on your Boston fern during the winter months. The pests search for a moist environment to make a home in when the rest of your house is dry during the winter.
The warm and moist temperatures that your Boston fern enjoys are also breeding grounds for many types of fungi. Keeping the temperature cooler at night is one way to prevent fungus from forming on your Boston fern.
Where to Buy Boston Ferns?
Boston ferns can easily be found at your local garden center and sometimes even your local supermarket. As usual, you can always find boston ferns online or even purchase popular decorative boston ferns that look just like real ones. The great thing about decorative ferns is that you never have to water them, and they looks identical to real ferns!