There is no other plant that will enhance and brighten your garden or backyard better than 'Magic Carpet' Spirea. This delightful dwarf shrub is very attractive, and yet easy to care. It will provide interest from an early spring to late fall. Read this tips to learn how to maintain this lovely shrub attractive and healthy.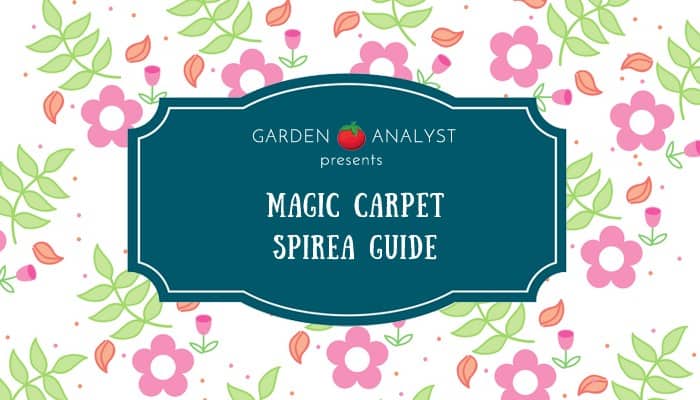 What is Magic Carpet Spirea?
'Magic Carpet' Spirea is a flowering shrub of the genus Spireae, which consists of 80-100 plants, mainly shrubs. It is a variety of Spirea Japonica, the species native to Japan and China, thought this variety, sometimes called 'Walbuma' Spirea, is the selection made in England.
Gardeners love this shrub because of its lovely, vivid leaves that change colors through seasons. It is regarded for its exceptional growth habit too. New leaves and buds are red or russet, while mature ones are yellow or gold yellow, which makes a perfect color contrast with small pink flowers. It blooms from June to October, producing clusters of pink flowers which persist for several weeks. You can prolong blooming by removing old, extended flower heads.
The foliage is compact and mounded, and 'Magic Carpet' Spirea is an exceptional low-growing shrub – it can grow up to 24 inches tall. It has a dense and spreading growth habit so it can spread up to 24 inches wide. These features make 'Magic Carpet' Spirea an excellent ground cover.
This plant is an extremely hardy variety so it's suitable for USDA 3-9 hardiness zone, but it loves sunny positions. With appropriate light conditions the shrub will look stunning with its colorful foliage.
How To Care for your Magic Carpet Spirea
This shrub is regarded as a low-maintenance plant. This beautiful little shrub needs occasional maintenance and upkeep, but it's generally an easy-care landscaping shrub. Your 'Magic Carpet' Spirea can live for approximately 20 years if you grow it under proper conditions.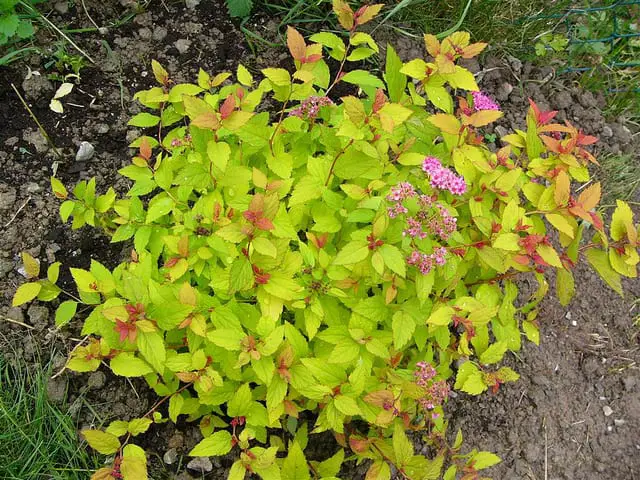 It grows well in poor or average soil and in any type of soil but you can fertilize it in spring before new growth begins to encourage more flowers. Water it once in a week or frequently in extreme heat conditions. Young plant with roots that haven't established yet should be watered more often until the plant establishes a strong root system.
It is rarely bothered by pests and issues with this plant are limited. Pests that are occasionally found on 'Magic Carpet' Spirea are Japanese Beetle, aphids and powdery mildew in extremely wet conditions.
How to Prune your Magic Carpet Spirea
To maintain the attractive shape of 'Magic Carpet' Spirea, you will have to prune it regularly. The pruning should be done annually in late winter or early spring, when the plant is dormant since this variety produces flowers on new wood. Make sure you prune it before the last winter frost before new buds occur.
Remove any unhealthy, withered or damaged stem and prune several stems to the ground. Don't be afraid to reduce its size by two-thirds its total height.
You can prune it drastically and heavily to keep it small and carpet-like. In that case, prune it every year, but skip a year if you notice that your 'Magic Carpet' Spirea grows slowly.
Additionally, you can prune it lightly after its blooming period. 'Magic Carpet' Spirea doesn't require this additional pruning, but it will help if your plant is a vigorous grower. After the last blooms expire, cut off the stem just bellow the spent flowers. This way you will neaten up your plant.
How Big Can Your Spirea Grow?
This shrub is mainly prized for its low-growing habit, so it would best if you prune it annually to keep it small. Consider the pruning methods mentioned above to maintain the size of the bush. Usually, the shrub won't go taller than 24 inches, but if you over fertilize it, it can go larger.
If you want a larger Spirea bush, maybe it's best to search for some varieties with taller growing habit such as 'Ogon', 'Anthony Waterer', 'Goldflame' etc.
Does your Spirea need Shade?
The ideal position for 'Magic Carpet' Spirea is a full-sun position. It can tolerate shade, but it will have the best color display and will produce more flowers if the plant gets enough sun.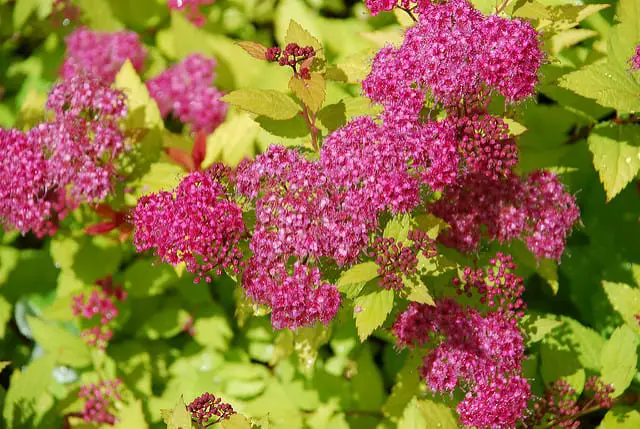 Actually, depending on the sunlight amount it gets, the foliage will have a specific color. Mature leaves will keep its wonderful golden color if you place it in full sun. Under partial shade, they will turn a slightly greenish, while in dense shade and low-light positions leaves are bright green.
Good Companion Plants for your 'Magic Carpet' Spirea
'Magic Carpet' Spirea is a quite versatile landscape shrub and fits well in various design ideas. Due to its neat, low mounded form, it's perfect for a foundation planting. It is also suitable for rock gardens and mass planting.
Though it looks well as a specimen it can be planted along with other plants to achieve an interesting texture or intense color contrast. Good companion plants for 'Magic Carpet' Spirea are Barberry, Raspberry, Potentilla, 'Wine and Roses" Weigela, Salvia, Coneflower (Echinacea) etc.
You can create the colorful autumn flower bed by combining 'Magic Carpet' with some species that have a late bloom. Ideal companion plants are those that belong to Aster or Chrysanthemums genus.
Are 'Magic Carpet' Spirea Deer Proof?
If you have a deer problem at your house, this plant might be a perfect choice for your garden. 'Magic Carpet' Spirea is deer-resistant, which means the plant is not a normal part of their diet. They may taste it or chew a leaf or two, but generally the plant is not their primary source of food.
Considering its deer-proof nature, you can plant it around the plants that usually attract deer. This way you can try to keep deer away from the plants that are the primary source of their food.