Polka Dot Plant(Hypoestes Sanguinolenta), sometimes called Freckle Face is an exceptionally decorative ornamental plant. The stunning and vivid foliage is the main reason for the widespread popularity of Polka Dot in landscaping design, but it's also grown as a houseplant that provides a great visual interest to the home. Read these tips to learn how to grow a healthy Polka dot plant.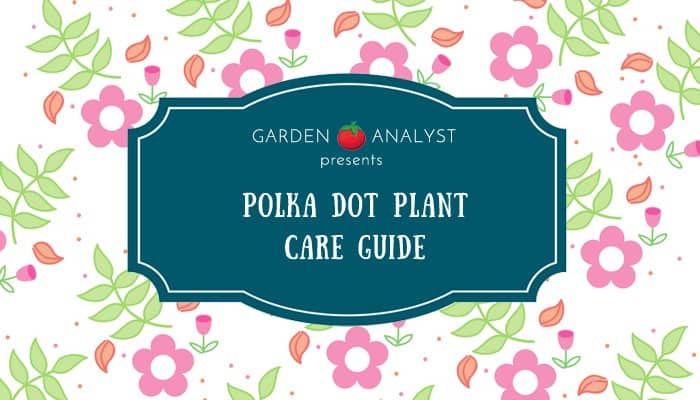 What is a Polka Dot Plant?
Scientifically known as Hypoestes Sanguinolenta (synonym Hypoestes phyllostachya) this plant belongs to the Hypoestes genus – the flowering plant genus with more than 100 species.
This herbaceous plant is native to Madagascar but it is cultivated worldwide. In its native habitat, the plant can grow up to 3 feet tall, but the commercially produced selections are usually smaller and suitable for growing indoors. Common varieties grow between 0.5 to 1.5 feet in height and spread 0.5 to 1 feet wide. These plants are very gentle and sensitive to frost and won't grow well in temperatures bellow 55 degrees.
The plant has variegated oval leaves, dotted with freckles in different colors and shades. The most common variety has green leaves with pink spots, but the colors in different selections can range from a white polka dot plant to beige, red and many shades of pink and purple.
Polka dot plant produces small, insignificant, purple flowers. These tiny lavender-colored flowers are actually a sign of the beginning of the end for Hypoestes plants. After the flowering, the plant usually goes dormant or dies, which is a major drawback of these lovely plants. But if you want to prolong the plant's lifespan, read bellow how you can manage it.
Is Hypoestes an Annual or Perrenial Plant?
Depending on a climate zone and growing conditions Hypoestes Sanguinolenta plant can be both annual and perennial plant. It can be grown in USDA zones 3-10 outdoors as an annual, or indoors as a perennial. If it's grown outside it usually grows bigger and reaches up to 1 – 1.5 feet tall.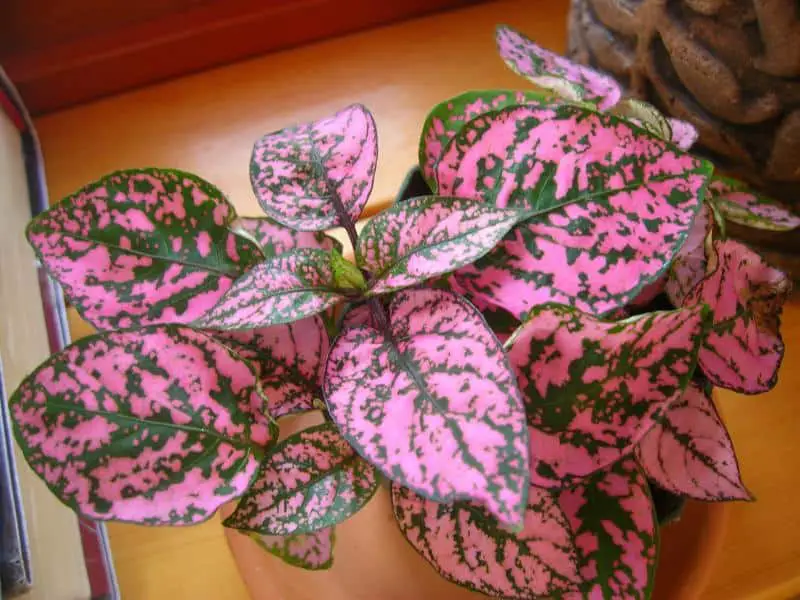 Regular pruning is a must for both perennial and annual forms. This plant likes attention and requires a regular grooming. By regular pruning and pinching back you can control Polka dot size, but it will also make the plant more compact and showy. It will also prevent the plant getting too leggy and will encourage a more bushy form.
Hypoestes likes water and moist soil. Keep the soil moist, but don't let your plant sits in its water. Water it thoroughly and sprinkle leaves with water occasionally. When the plant is overwatered, leaves go yellow and eventually start do drop. On the other hand, when dropping leaves occur, that is a sign that plant lacks water.
Outdoors plants need less fertilizing than those grown indoors. If you grow them indoors, feed them once in a month.
How Long do Polka Dot Plants Live?
If you grow Hypoestes Sanguinolenta indoors you can prolong its limited lifespan. But, if you grow it outdoors, Polka dot plant will complete its life cycle within a year. If you want this lovely plant to enhance your garden all year round, you can try to propagate new plants every year.
If the short lifespan is a drawback of Polka dot plant, an easy propagation is certainly its advantage. Fortunately, it is easily propagated at any time of the year, but you have to be patient since these are the slow growers.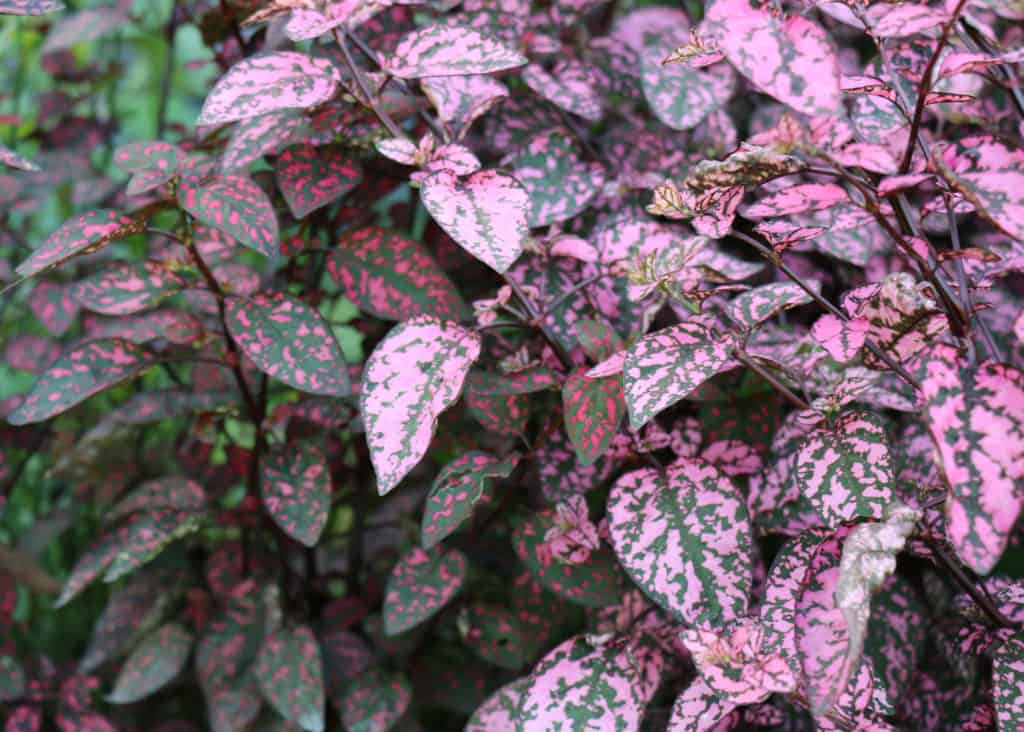 The most common and the easiest propagation method is by cuttings. Take a healthy cutting, remove the leaves from the lower half of the stem, dip the cutting into rooting hormone and place it in the pot filled with a coarse potting soil mix. Keep the soil moist until the cutting forms the root system. Protect your cutting from drying out by covering the pot with a plastic bag. When the plant becomes strong enough you can repot it if you like.
If you're starting Hypoestes from seeds, sow them indoors in early spring. Provide them with the adequate light and temperature required for germination. Pinch out new plants when they reach 5-6 inches in height to encourage growth.
Polka Dot Plant Leaves are Curling – How to Fix it
The leaves of your Polka dot plant started curling in at the edges? Don't worry. You can fix it and make your plant look attractive again.
Crinkly and curled leaves are the common issue with Polka dot plants which occur when the plant is gaining too much sun. Direct light and hot sun can cause leaves to curl up and to develop unattractive brown marks.
With proper light conditions, the plant will do best and the colors of foliage will be bright and outstanding. Leaves will look healthy and attractive.
Indirect light, partial shade and low-light positions suit best for Polka dot plant. Besides curling leaves, direct sunlight can cause leaves freckles to shrink. But in extremely low light conditions, the leaves start fading and losing their variegation. Just observe carefully the colors of leaves and you'll know whether your plant is happy.
If you notice curled leaves on your Polka dot, move it to a shadier spot with filtered sun.
Are Polka Dot Plants Poisonous?
Though there are statements that Polka dot plant is poisonous, it is actually considered safe and non-toxic plant. According to the American Society for the Prevention of Cruelty to Animals (ASPCA), Polka dot plant is safe to pets such as dogs and cats.
However, any plant can cause unexpected reactions in animals and certain people. ASPCA warns that mild vomiting and diarrhea may occur if pet ingests the parts of Polka dot plant. If possible, keep the plant out of pets' reach.
Popular Polka Dot Varieties
Within the basic Polka dot species, there are dozens of varieties and selections. These new varieties have more brightly colored foliage and they grow more compactly. Among various hybrids the most popular ones are:
'Carmina', a showy selection with red dots and freckles.
'Pink Splash' which has leaves variegated in shades of pink and red.
'Confetti', a small-sized variety with extremely bright colors. It has green leaves spotted with red, white, pink or rose.