If you love small, easily controlled and tidy plants with a docile behavior, then the Ash Leaf Spirea plant is not for you. But, if you love vigorous, and yet attractive and luxurious plants, this may be the right choice. Learn how to properly care for your 'Sem' Ash Leaf Spirea in this plant care guide.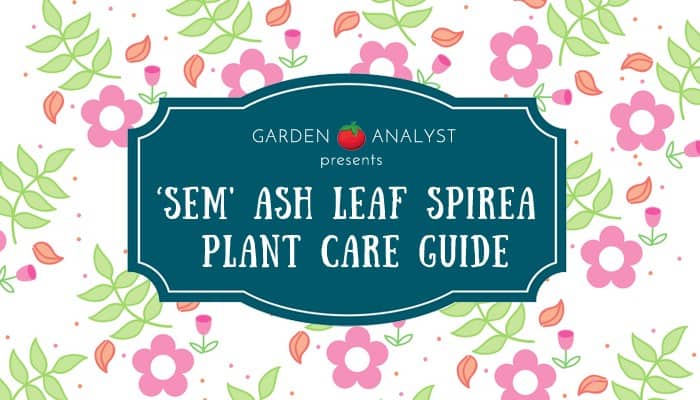 'Sem' Spirea is an improved variety of suckering shrub called False Spirea, but this variety is less invasive than other False Spirea shrubs. Not only this deciduous shrub is low-maintenance and extremely cold-tolerant, but also looks best during cold months, enhancing a landscape with its multi-colored foliage. It is suitable for mass planting and filling in the large garden areas, but with a proper care and regular pruning, it can work well as a single bush with a compact shape.
What is 'Sem' Ash Leaf Spirea?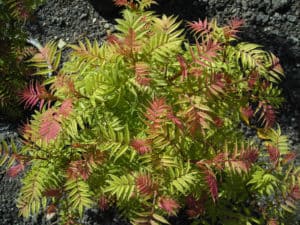 'Sem' Ash Leaf Spirea, Ural False Spirea, False Spirea 'Sam', Sorbaria sorbifolia 'Sem' – all these are names for the same shrub, native to Eastern Siberia, Manchuria, northern China, Korea and Japan.
This attractive shrub has a late winter and spring interest. Young feathery leaves, colored in lime green with the red, pink, orange and golden tips appear when winter ends. They stay multi-colored until the end of the July, when mature leaves start to lose its reddish tone and become distinctly green or dark green. Pearl-like buds occur in midsummer and they eventually turn into showy, white plumes. The plumes turn reddish brown gradually as summer goes by. The flowers resemble Astilbe plumes.
'Sem' Spirea is smaller than other False Spirea shrubs. It grows 3 feet tall and 4 feet wide. It is usually used for beds and borders, slopes and hillsides, smaller hedges etc. It is a perfect solution for land erosion control since its root system makes the soil more compact and keeps it in a place. You can also use it to build a windbreak or barrier from the dust.
If cultivated under ideal conditions, it can live for almost two decades, gracing your garden scene and attracting butterflies and songbirds during bloom time.
Controlling 'Sem' Spirea Size and Spread
False Spireas are often unfavorable plants due to their invasive nature and aggressive growth. False Spirea is a multi-stemmed shrub with a large number of root runners and suckers appearing frequently with the tendency to invade your garden and backyard.
But, the 'Sem' cultivar is a new form of False Spirea, pretty exciting for gardeners since it differs slightly than other False Spireas. This cultivar has kept its best features such as rich foliage and showy flowers, but also gained less invasive and aggressive nature than most of the False Spireas species.
To prevent unwanted spreading, remove root runners promptly. This way you'll avoid colonizing of these little new grown plants. You can also cut the plant to the ground occasionally to rejuvenate the plant and control its fast growth and invasive spread.
If you want the best out of this plant, find a 'solitary' place for it, away from other smaller plants. This way the shrub won't disrupt or harm them with its fast and aggressive growth.
How to Care for Sem Ash Leaf Spirea
Light: 'Sem' Spirea grows best in a partial shade, but it can tolerate full sun.
Soil and Fertilizing: It requires a well-drained, medium-moisture, organically rich soil, but can grow well in any type of soil. It can grow well in a clay based soil which tends to slightly hinder the plant's affinity to sucker root. The soil can be fertilized with a balanced fertilizer in spring.
Air Temperature: This extremely durable and hardy plant tolerates air temperature to -20°F, therefore is suitable for 2-9 US climate zones. The plant can withstand extreme conditions, especially extreme cold.  Maximum elevation for this plant is 7,000 feet.
Pruning and trimming: 'Sem' Spirea should be pruned annually in spring, right after the shrub has bloomed. Feel free to reduce it by 12 inches. Avoid late summer pruning. To improve the shape, prune tops of the plant in desired way. Remove root suckers as they occur to control the size and spread.
Winter care: This shrub doesn't require much of a care and attention during winter. It is usually covered with snow, waiting for spring to leaf out. You can trim it to the ground before winter arrives to prevent the shrub's runners and suckers from developing.
Watering: 'Sem' Spirea doesn't require much water, so you can water it weekly. Touch the soil around plant's roots to check whether the plant needs watering. If the soil is dry, soak the plant's root, but not the leaves. Do not water the plant if soil is moist. Overwatering can lead to damaged roots and various issues with the plant.

Usually, 'Sem' Spirea needs an extra watering only during the long dry periods without rainfall.

When newly planted, water it frequently. New roots need more water to grow strong and establish its own root system, so water the plant once or twice per week.
Planting and Growing 'Sem' Spirea in Containers and Pots
Nevertheless, if you're afraid that even the improved variety of False Spirea could occupy your garden, you can plant it in a container or a larger, heavier pot. This way you can control its fast growth more easily.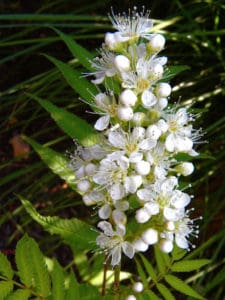 The ideal time for planting 'Sem' Spirea is March or May. You can grow it from seeds, but the easiest way is propagation from cuttings. Take healthy cuttings of the plant, place them in a slightly dry soil combined with an organic mulch.
Water every 2-3 day during first 6 weeks. After this initial period, you can water it once or twice a week until a deep, extensive root system is established. You can continue watering once in a week.
Place the container in partial shade and prune it regularly to maintain the desired, compact shape. The issues with this plant are limited, it is rarely attacked by pests, so make sure you provide it with good conditions and the plant will enrich your garden all year-round for many years.
Where To Buy Different Varieties of Spirea
If you enjoy the look of spireas, there are alot more varieties that are available with various shades of color to cheer up your garden. You should be able to find varities at your local garden center, but can also easily order spirea online.