Stewartstonian Azalea is a beautiful, showy shrub that makes any landscape bright and attractive. This easy-caring plant decorates gardens and landscapes with its lovely, orange-red flowers in the spring, and with its evergreen foliage during the cold months of the year. It is especially prized for its versatility – it can be used in various landscapes.  It works well as specimens in woodland gardens or containers, or as mixed borders or a hedge – it's up to you to choose!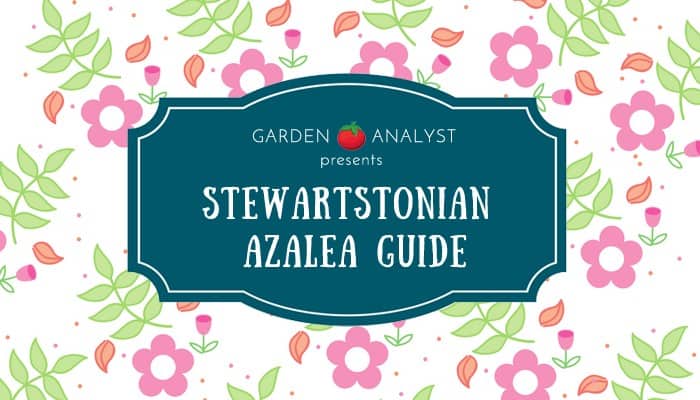 What is a Stewartstonian Azalea
Stewartstonian Azalea is hybrid made by Joseph Gables, a semi-professional nurseryman and professional farmer, who had lived in Stewartstown, Pennsylvania. Hence the botanic name Rhododendron x Gable 'Stewartstonian'. By crossing the different species of Azaleas, he made this wonderful specimen, that has kept its gorgeous appearance, but gained versatility and exceptional cold hardiness.
This hybrid Azalea is an evergreen shrub that enriches gardens and landscapes even during the winter, when glossy, dark green leaves become wine red. In the spring, the leaves become green again and the plant starts to bloom with showy, abundant clusters of a vivid dark orange or orange red flowers. Depending on the climate zone, the plant flowers from mid-March to early May. Stewartstonian Azalea can grow 3-5 feet tall and 4 feet wide, with a dense growing habit.
Azaleas belong to the Rhododendron genus of 500 to 900 species, but the human selection has resulted in a great number of hybrid cultivars. They are native to several continents including Asia, Europe, and North America.
How to Care for your Stewartstonian Azalea
Azalea Stewartstonian is a member of Rhododendron genus, so it requires basically the same care as Rhododendron species and Azaleas. It is an easy-maintaining plant, and with a general knowledge of Rhododendron genus and with a few tips, you can learn how to take care properly of this showy shrub.
Finding the right spot for the Stewartstonian Azalea: It is very important to plant the Stewartstonian Azaleas in the right spot. That means you have to protect it from both strong winds and afternoon heats.Keep in mind that trees from walnuts family are bad neighbors to Rhododendrons and Azaleas generally – the toxic jungles produced by roots of walnuts, butternuts, hickories and pecans can harm your azalea plants.
Light: It is best grown in a partial shade. It should be protected from a direct sun and afternoon heats,  though it tolerates a fair amount of sun in cooler climate zones and during cold months.
Soil and fertilizing: This Azalea plant likes slightly acidic and well-drained soil. pH value of the proper soil ranges from 5.0 to 5.5, and you can add sulfur or iron sulfate to the soil to lower the pH.Stewartstonian Azalea just adores the organic mulch. Mulch layer 2-3 inches thick, made of wood chips, bark and pine needles will help the plant to retain its necessary moisture, but will also suppress weeds and keep the soil temperature stabilized. Feed the plant in the spring after blooming with a fertilizer for acid-loving plants.
Watering: This plant likes moisture, so you have to water it frequently and thoroughly to keep the root slightly moist. Do not let the root to dry out completely, but do not let it become waterlogged. Occasionally sprinkle water on the leaves. Water it with rainwater, if possible. Though the plant is drought-tolerant and can go weeks without watering except in extremely hot or windy weather, regular watering will prevent diseases and make your plant look healthy and attractive.
Temperature: This Azalea hybrid can withstand very cold temperatures, but an ideal air temperature for the Stewartstonian Azalea ranges from 55.4°F to 64.4°F. The plant doesn't like hot, dry and dense air – these conditions could cause leaves falling. Azaleas thrive in U.S. Department of Agriculture plant hardiness zones 4 through 9.
Pruning: Trim Azalea after the blossom fades to keep it a manageable size and attractive shape. Minimal pruning is optimal – it will allow the plant to retain its naturally graceful form.
Propagating  Stewartstonian Azalea
Propagation methods include seeds, stem cuttings, grafting, and layering, but the easiest way is propagation through the stem cuttings. Besides, if you want your new plants to be look-alikes of the parent, grow Stewartstonian Azalea from cuttings.
Use semi-wooden cuttings from the top of the plant, where new shoots are forming. Remove all leaves, except those on the top of the cutting. Dip the bottom of the cutting into the powdered fertilizer and place the cutting into the pot with the moist soil. Keep the cuttings in a warm place, out of the direct sunlight. The root system will develop within 8 weeks, and then you can place these new plants into a permanent spot.
Fungal Diseases of Stewartstonian Azalea and Other Problems
With a proper care and good conditions for the plant, problems with this Azalea are very limited. Some of the most common pests include leafhoppers, mealy bugs, aphids, borers, lace bugs, caterpillars, nematodes, scale, thrips, whitefly, and mites. You can get rid of the mites, scale, and eggs of lace bugs by spraying the plant with horticultural oil.
Unfortunately, the most common issue is related to fungal diseases. Various fungi attack flowers, leaves, roots, wooden parts of the plant and crowns, due to insufficient watering.
If a canker, caused by fungal growth, occurs on the upper parts or roots of the plant, forming dark, sunken areas on the wood, you will have to cut back the infected branches. Remove any dropped plant debris – that will prevent reinfection and further disease spreading.
White, cottony growths on the leaves or pepper leaves with stippling indicate a fungal disease too. Infected flowers tend to lose their color. Fungi also cause the rotten buds – the plant develop buds, but they go brown and they do not open.
If the plant's roots are waterlogged, the root and the crown can be easily attacked by various fungi that can often kill the plant. Yellowing and falling leaves may be a sign of infected roots. But you can avoid this to happen at the first place – plant the Stewartstonian Azalea shallowly and make a good drainage, so the air in the soil can circulate.
If you spot any of these symptoms, you can control the fungi by using fungicides labeled for azaleas or sidestep them by applying preventive fungicides.