This ornamental, flowering shrub comes from Africa, but it's cultivated worldwide for centuries. With its dimensions and wonderful bloom, Lion's Tail catches attention at a first glance. The plant is mildly psychoactive and has various medical and healing uses in African traditional medicine. Read on how to care for this plant properly.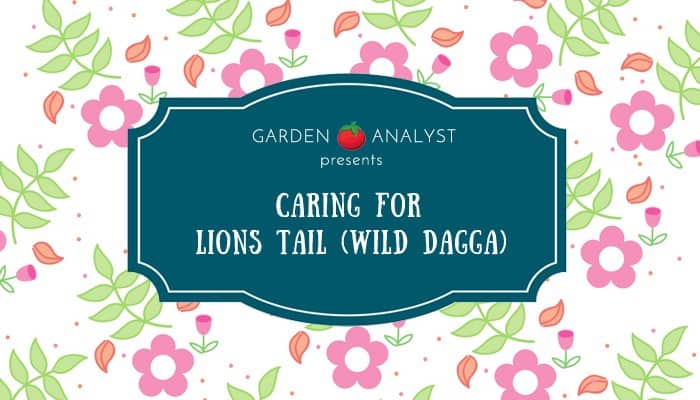 What is the Lion Tail Plant?
Leonotis leonurus or Leonotis Menthifolia is a common evergreen shrub in landscapes of southern Africa. It was brought to Northern America five centuries ago, where it became highly appreciated and popular in ornamental gardening. The plant can be found in subtropical and Mediterranean climate regions, and it can be easily grown in Hawaii, California, Alabama, Florida, Louisiana, Arizona etc.
The plant belongs to the family of Lamiaceae or Mint family, which is evident in the shape of flowers – plants from the Mint family have tubular flowers in tiered whorls. That kind of flower shape is especially appealing to hummingbirds, so if you decide to grow a Lion's Tail, you'll be seeing them swarming around all the time.
A flower actually resembles a Lion's tail or Lion's ear, which is another name for this tropical shrub. Flowers are mainly orange or orange-red, but there are also white and yellow varieties. The flowers rise above the foliage during the flowering season, in summer and early fall.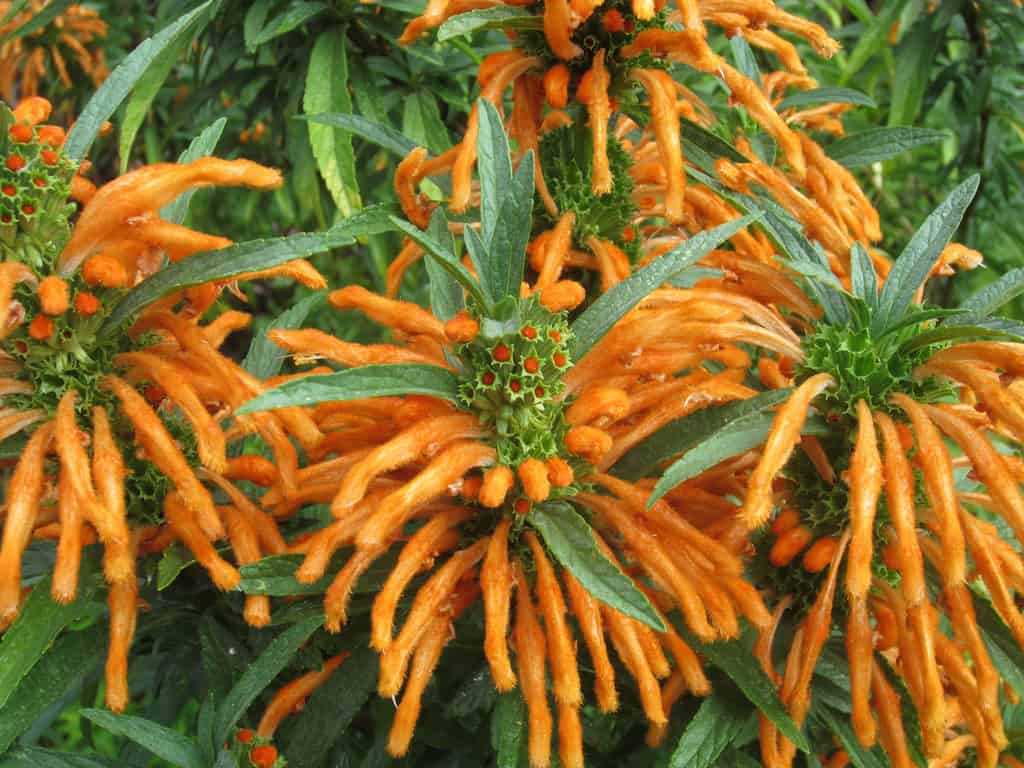 The shrub grows really fast and can reach 3 to 6 ft (1 to 2 m) in height, so it's perfect for a privacy screen. It is usually used as a border shrub but looks nice in a larger container or a pot.
Lion's Tail is also known by the name Wild Dagga. The word 'dagga' is linked to South African name for cannabis species. It is sometimes referred as Wild Cannabis too, cause it has similar psychoactive properties and it's often used as an alternative to illegal psychoactive plants.
It also has various application in traditional medicine and it's considered a snake repellent. The plant is also deer resistant.
How to Care for Lion's Tail
Lion's Tail care is quite minimal and with adequate conditions, it can be easily grown. It is usually grown as a perennial in subtropical, warm regions, and as an annual everywhere else. Here are some basic rules for Lion Tail's plant care:
Light and Sun – The plant is drought-tolerant and easily endures the summer sun. Put it in a full sun position, with a lot of light and direct sun.
Soil and Fertilizer – The soil for Lion's Tail should be well-drained and neutral. Fertilize it with balanced liquid fertilizer. Lion's Tail needs nitrogen, phosphorus, and potassium in the spring, but don not over-fertilize it cause it will make flowers weak. Use more phosphorus to encourage more flowers.
Water – The plant can tolerate long periods of drought and doesn't like to sit in water. Overwatering can cause root problems which lead to permanent plant damage.
Temperature – This is a tender plant, easily damaged by low temperatures and frost. It can be grown outdoors as a perennial in US hardiness zones 9 through 11. In all other zones it should be grown indoors, as an annual houseplant. Or you can plant it outside before the last frost when it's finally safe to put tender plants outside. If you grow it in a container or a pot, bring it outside after all frost danger has passed and move it indoors during winter.
Pruning – This is a rapid and vigorous grower, so you'll have to prune it regularly. Deadheading is a must – by removing faded flowers and seedheads you will stimulate new flowering growth. Cut it and pinched it back occasionally. Remove all parts that seem to leggy and overgrown to maintain the desired shape. Cut it back in winter to encourage new growth in spring
How to Propagate Lion's Tail?
Both seed propagation and cutting propagation work for Lion's Tail and should be done in spring.
If you want to propagate it through cuttings, follow the usual procedure. Take a healthy, new grown stem, remove bottom leaves and stick it into the moist soil. Use a rooting hormone if desired. Place the pot in the spot with a lot of light, but keep it away from the direct sun. You can put a plastic bag over the plant, to retain warmth and humidity. Water it regularly in order to keep the soil moist, but not wet.
You can propagate it through seeds too. If you want to collect seeds, allow seedheads to dry out on the plant and collect all healthy seeds from mature plant. Keep them in a dry and dark place until you saw them. You can store Lion's Tail seeds for months if preserved in cold place or in a refrigerator. Saw it indoors before the last frost or outdoors after frost.
Wild Dagga Tea Effects
Lion's Tail contains a pseudoalkaloid called Leonurine. The substance has been isolated from many Leonotis plants and other plants from the family of Lamiaceae. It has psychoactive and healing properties and is widely used in traditional medicine in southern Africa. It is commonly used to treat tuberculosis, jaundice, muscle cramps, high blood pressure, diabetes, viral hepatitis, dysentery, and diarrhea.
The plant is valued due to its calming properties too. Lion's Tail flowers can be dried and smoked, but could also be brewed into a tea. The effects of Lion's Tail tea are calming, sedative, but slightly euphoric. Because of its psychoactive properties, you should be cautious if you own a pet.
Unlike Cannabis plants, Lion's Tail is currently legal worldwide with the exception of Poland and Latvia.
Anyway, an animal study in rats indicates that Lion's Tail extract can have a toxicological adverse effect when received in high doses. So, do a decent research on Lion's Tail generally, its toxicological and medicinal properties, and on the proper and adequate usage of the plant's parts before you decide to consume it.