The most gorgeous of all succulents, echeverias are popular due to their flower-shaped, ornamental rosettes and a wide range of wonderful colors, shapes, and textures. They are native to warm climates, but there's no reason why you shouldn't grow them in a cold climate as houseplants.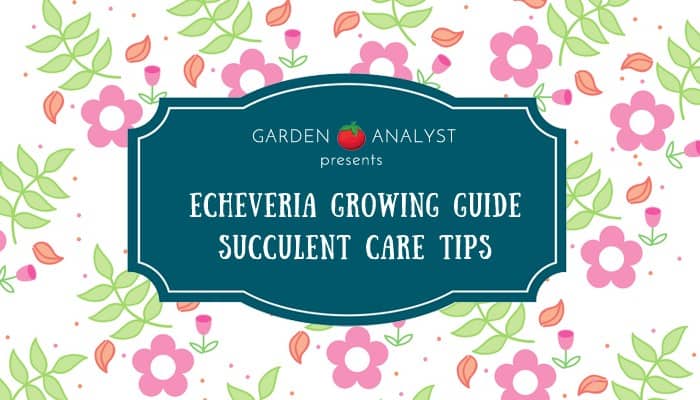 What is Echeveria Succulent?
Echeveria is a genus of succulent plants from Crassulaceae family native to semi-deserts of Central America, Mexico, and northwestern South America, but echeverias are cultivated around the world. These tender succulents are rosette-forming, with chubby, thick leaves usually formed around a central stalk, but there are many forms and shapes of echeveria. Because of the wide variety of shapes and colors, from bright green-blue and yellow to pink and pale purple, echeverias are highly appreciated as ornamental plants.
Echeverias are usually called Hen and chicks, the name also related to Sempervivum and Jovibarba genera. The name comes from their tendency to spread by their offsets – tiny replications of themselves which occur as stalked rosettes beneath bottom leaves of the mother plant.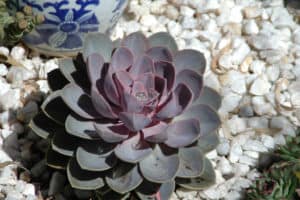 Echeverias usually flower in spring or summer, producing flowers on long inflorescence. Echeveria flowers have a wide diversity of colors and shapes too.
These beautiful succulents are ideal for rock gardens and patio planting, but you can grow them in pots and containers, planting them along with other succulent species to achieve an impressive combo of shapes and colors.
Popular Varieties of Echeveria
There are more than several hundreds of species and varieties of echeveria, including its relatives – Graptoveria (a hybrid of Echeveria and Graptopetalum) and Pachyveria (a hybrid of Echeveria and Pachyphytum). These are popular varieties of echeveria:
Othor popular species and hybrids are E.glauca, E.pulidonis, E.setosa, E.'Blue bird', E. 'Afterglow', E.'Shaviana' etc.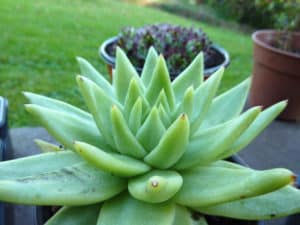 How to Propagate Echeveria
Echeveria plants can be easily propagated by offsets and leaf cuttings, but they can also be raised from seeds. Propagation depends on each specific Echeveria species or variety.
Growing echeveria from seed is quite challenging, but it's not an impossible task. Just be sure to provide the seed with adequate sawing conditions: make sure to provide the seeds with enough light, humidity and a temperature of approximately (62°F to 68°F) 17°C to 20°C. Fill the pot with soil mix for cacti and soak the soil thoroughly. Place seeds on the surface and moisten them lightly with a hand sprayer. To keep humidity on the desired level, place the pot in a plastic bag and keep it out of the direct sunlight until seeds germinate. When the seedlings aren't fragile anymore, repot them in a bigger container.
Echeverias so as many Sempervivum species are able to produce offsets. Cut the offset with a clean knife and place the offset on the soil surface. The offset will root within a few days if you keep it slightly moist and out of the direct sunlight.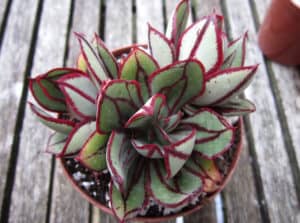 Propagating through leaf cuttings is a common propagation method for many succulents, and it's very simple and rewarding method! Just twist the healthy leaf off of the stem and set it on top of the soil and keep the soil slightly moist. When tiny, pinkish roots appear, just cover them lightly with a small amount of soil. Keep the soil and roots moist. Within several days or weeks, depending on echeveria species and variety, a small rosette will start forming. The leaf will dry out eventually, while the rosette will keep growing. Water it regularly because young plants need more water than mature ones. Repot them when they grow enough to be safely moved.
Echeveria Plant Care
Echeverias are easy-maintained plants. Just follow these instructions and echeveria will do the rest!
Temperature: Echeverias are mostly non-hardy succulents and they aren't used to the cold temperature. In warm climates, you can grow it outside, but in cold climate zones you will need to grow echeveria indoors. The ideal temperature for these tender succulents is between 50 and 70°F (10-21°C). You can grow it outside in USDA zones 9 and 10.

Light: Place your echeveria in full-sun position. Many succulents, including echeverias, will stretch out vertically if they don't have enough light. Light deficiency will not harm your plant, but the plant will look unattractive and unhealthy. Once the plant has stretched out, you can't revert its compact shape. That's why it's recommended to put echeveria near the brightest window in your house, especially during winter when days are short. Just keep your echeveria out of drastic sunlight changes and direct afternoon sun which can cause sunburns on leaves.

Soil and Fertilizer: Like all succulents, echeverias need well-drained soil that dries out quickly. Choose a quality cactus potting mix or create your own mixture of soil and perlite. Since succulents grow in soil without a lot of nutrients, no fertilizers are needed.

Water Requirements: Number 1 rule: do not overwater your echeveria and don't leave it with "wet feet". Too much water will turn echeveria leaves soft, yellow and wilted, and will eventually kill the plant. Water your echeveria rarely, but thoroughly. Soak the soil completely and remove the excess water from the saucer. Water it again when the soil is dried out, but don't keep the plant in the bone dry soil. Though the echeverias are drought-tolerant, they will grow best if regularly watered. The time between watering depends on the temperatures and conditions of the plant.

Containers: If you grow echeveria in a pot or a container, you should repot it annually in spring. As your echeveria grow, it will need a larger container, but repotting will also bring a fresh change of soil. Just be sure to plant echeveria in a pot with good drainage.
Buying Echeveria Succulents Online
If you are interested in purchasing echeveria succulents, it may be difficult to find in your local garden centers. The easiest way is to simply browse and buy echeveria online.