The smoketree (sometimes also called smoke tree or smoke bush) is an awesome specimen tree to have in your garden or landscape. As trees go it's very compact, usually topping out at 10 to 12 feet tall and wide. It can reach as high as 20 feet, but even this is small enough to fit into most gardens, as long as it's the main focal point.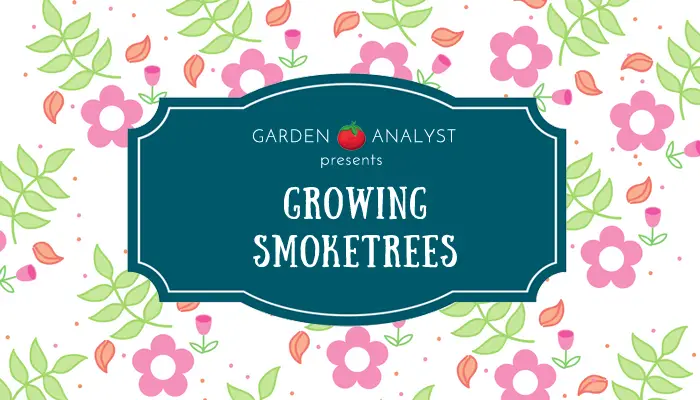 Growing smoketrees is very rewarding. Smoketrees have a truly unique look and vibrant color all year long. The color of the foliage varies from type to type, but it tends to go through several color changes from spring to fall.
The real draw, and the source of the tree's name, are the flowers that appear in the spring and last all summer. Usually in shades of white to red, these flowers are long, branching filaments that grow outward from the branches and, from a distance, give the whole tree the look of being shrouded in smoke.
Smoketree Varieties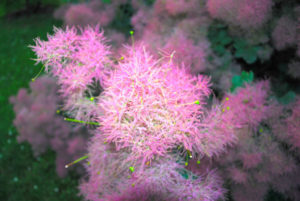 Smoketrees come in quite a few varieties, and the differences are usually down to the color of the foliage and flowers. Here are some of the most popular smoketree varieties:
Royal Purple – Purple flowers and red foliage in the spring that turns to purple in the summer and bright red, yellow, and orange in autumn.
Pink Champagne – Foliage that's mostly green but bordered with pink that turns bright red and orange in the fall.
Nordine – Purple to bronze leaves that turn green and orange in the fall. Especially big pink flowers.
Velvet Cloak – Red to purple leaves that stay bright all summer long and change to vibrant red in the fall.
Daydream – Green to blue foliage that turns orange to red in the fall. Long lasting pink flowers.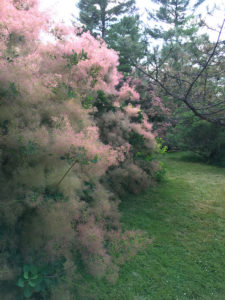 How To Care for Your Smoketree
Smoketree care is pretty low maintenance. As a rule, smoketrees are hardy in USDA zones 5-11, though some are hardy down to zone 4. They may die down to the ground in very cold winters and come back in the spring. The best soil for growing smoketrees is high in pH and not too rich. Some compost is a good idea, but too much fertilizer will keep your trees from blooming to their full potential. Smoketrees can tolerate partial shade, but they bloom best in full sun. They need watering to get through dry spells, but they're quite drought tolerant and actually bloom more spectacularly in slightly dry conditions. Smoketrees have delicate bark, so be careful not to nick them when mowing nearby.
How To Prune a Smoketree
Pruning a smoketree once a year will keep it healthy and looking good. The best time to prune a smoketree is late winter or early spring, before new buds have formed. Smoketrees are fast growers and will come back from even heavy pruning. Remove old and weak branches and trim back longer or overcrowded stems to make for a rounded shape and to encourage new growth.
Where to Buy Smoketrees?
If you are in the market to buy a smoketree, you can always check your local garden center. While they may be difficult to find, you do have the option of finding smoketree shrubs or smoketree seeds online at a fraction of the price.