Despite the huge controversy around Sassafras Tree's safety and the safety of its active compound Safrole, once a flavorful medicinal plant, this ornamental tree is still favorable by many gardeners. Due to its canopy-like, rich and colorful foliage, it is a very attractive tree for landscaping. Here are some interesting facts and useful information on Sassafras tree and products made of Sassafras.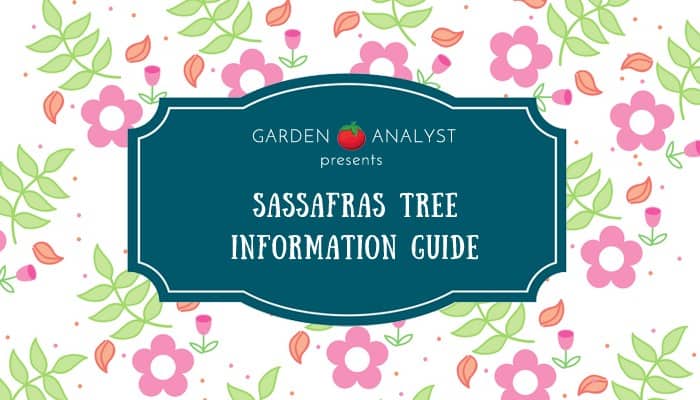 What is a Sassafras Tree?
Native to the Eastern United States, Sassafras albidum is a tree or a shrub known for its variable uses in medicine and cooking. It comes from the Lauraceae family, which also includes some popular spices like cinnamon.
This deciduous tree is often grown for its ornamental appearance and fragrance. The Sassafras distinct leaves come in three different shapes – entire, mitten-shaped, and three-lobed leaf. In fall, the leaves turn into beautiful shades of yellow, orange, and red.
This medium-sized tree, with a moderate growth rate, can reach up to 49-65 feet (15–20 m) height while the canopy can spread up to 39 feet (12 m) wide. The tree is very hardy and it's found at elevations varying from Mississippi River bottom lands and the southern Appalachian Mountains where the tree can grow at altitudes of sea level up to 5000 ft (1,500 m).
It grows in various types of soil, but it grows best in moist, well-drained, sandy loam soil. This tree prefers partial shade and a plenty of space. If you wish for a fruit production, you should plant both male and female trees.
Sassafras albidum was an important plant to Native American tribes of the southeastern United States and was used for many purposes, especially for medical treatments and as a culinary ingredient with its Sassafras Root Bark. It became the second-largest export from America to Europe after tobacco in the early 17th century. For many centuries, Sassafras has been used for its diuretic properties and it's said that can be beneficial for the urinary system. It is also used as a body cleanser since it can purify the blood.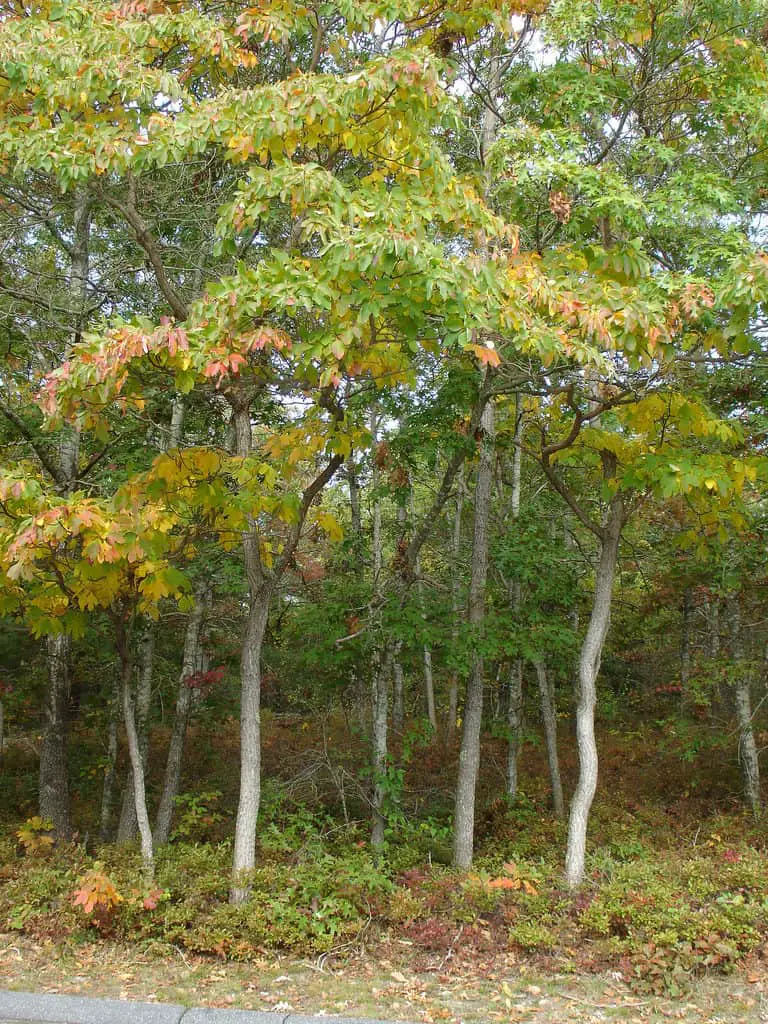 It also has a particular culinary significance, especially in Lousiana Creole cuisine, since distinct national foods such as traditional root beer and file powder are made of Sassafras Tree's parts.
Sassafras tree oil
is used in aromatherapy and soap and perfume manufacturing, or as a skin remedy.
How To Identify A Sassafras Tree
Sassafras Tree can be easily identified by two of its features. One of them is Sassafras Tree's distinctive and unusual foliage. As previously said, Sassafras tree can have three different leaf shapes – three-lobed leaves, two-lobed leaves, and unlobed elliptical leaves – and they all can be found on the same branch. Three-lobed and two-lobed leaves look like a mitten and therefore Sassafras is easily identified in woods.
The second great identification feature is the smell. Sassafras leaves have a fragrant citrus-like scent when smashed. Actually, all parts the plant, including bark and twigs, are very fragrant too. Though the roots and branches both have a fragrant smell, they have distinct fragrances. This feature allows you to identify Sassafras tree even during winter when the tree has lost its leaves. The stems and leaves smell more citrus-like than the root does.
Is Sassafras Tea Safe or Poisonous?
Though Sassafras have been widely used in early America for many centuries, Sassafras aren't as popular as they used to be. The main worries come from the claim that Sassafras oil, extracted by steam distillation from the bark and roots of the Sassafras tree, is related to cancer. Various researches and studies on Sassafras oil have led to the final FDA's decision to ban the use of Sassafras oil as a food and flavoring additive because of the high content of Safrole and its proven carcinogenic effects. The 1950's government study that had used Safrole to feed rats over a long period, had shown that Safrole cause cancer in those rats.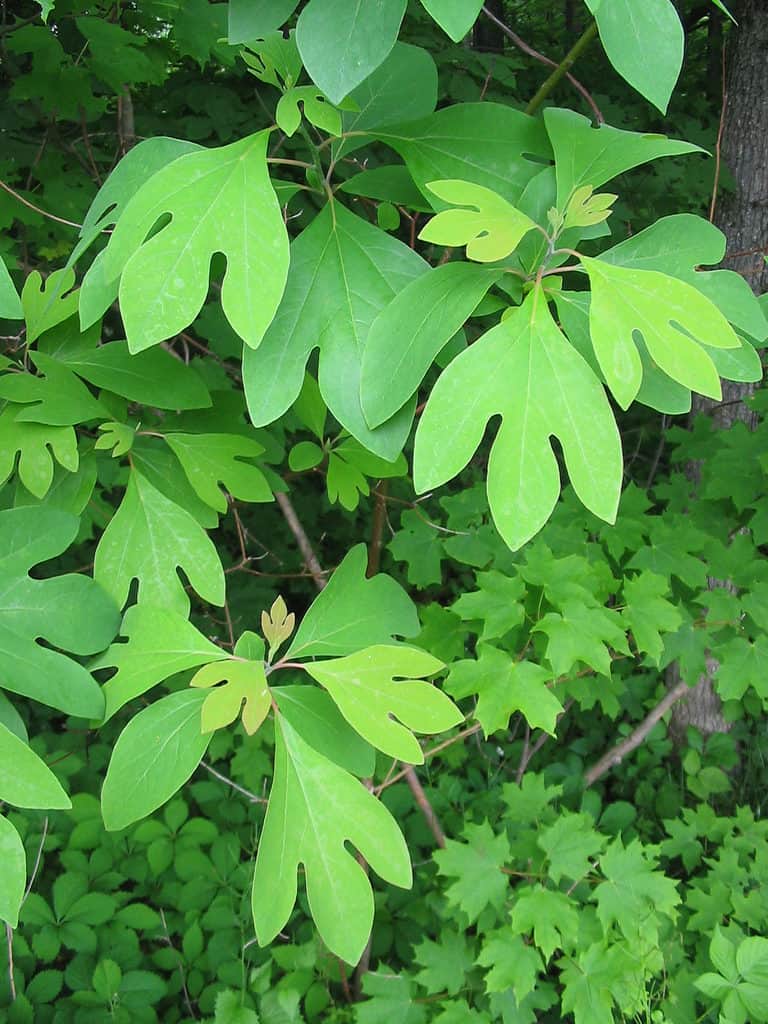 The traditional root beer, made of sassafras root, was also banned by the FDA in 1960. Several years later, FDA banned the use of Sassafras tea too. But, with the passage of the Dietary Supplement Health and Education Act in 1994, some of the dietary supplements that were previously banned, such as Sassafras tea, were allowed to return to the U.S. market. Now, Sassafras and products containing Sassafras are still available in some health food stores but in many cases, these products involve the use of a safrole-free extract.
There are many conspiracy theories related to Sassafras. After the government's research, the further study from a third party discovered that the rats in the original study were fed impractically high amounts of safrole. Simply put, even if you consume Sassafras tea every day for your life, it would be impossible to take in the amount of safrole that those rats were subject to. No human studies have been made so nobody really knows how does Sassafras affect humans and what levels might be dangerous to people.
An interesting fact is that safrole is present in various spices such as cinnamon, nutmeg, sweet basil, anise etc. Traditionalists think that benefits of sassafras tea, and sassafras oil too, can outweigh its dangers and downfalls.
Sassafras tea is made from the leaves or roots of the sassafras tree and it's believed it has medicinal properties. But it also has several side effects such as chest pain, itchiness, skin inflammation, difficulty breathing and swollen throat. Lethargy, vomiting, hallucinations, muscle spasms may occur too. If any of these symptoms are experienced it is highly recommended to search for medical help and stop consuming the tea.
Considering all above, if you want to grow and harvest your own Sassafras tree or if you want to buy a dietary supplement or extract from Sassafras, make sure you do a research and learn as much as possible about this tree and products made of it.