Trumpet Vines are often cultivated for their exotic flowers and interesting, creeping growth habit. 'Balboa Sunset', the selection of North American species, will enrich your garden with a dense foliage and trumpet-shaped, orange-red flowers whose nectar attracts hummingbirds and bees. Some gardeners say Trumpet Vine is an invasive plant, but adequate care and pruning can keep the plant from taking over your garden or yard. Read on to learn how to properly care for 'Balboa Sunset' Trumpet Vine and Trumpet Vines generally.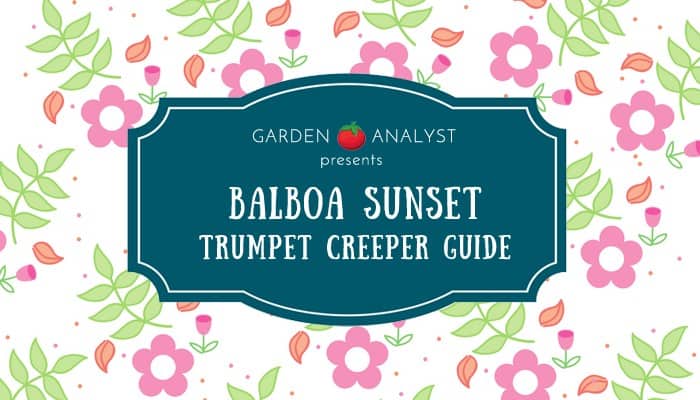 What is a Trumpet Vine?
'Balboa Sunset' Trumpet Vine is a selection of the Trumpet Vine, species known by many names – Campsis radicans, Trumpet Creeper, Cow-itch Vine or Hummingbird Vine. Despite its slightly rampant nature and several disadvantages of the plant, 'Balboa Sunset' is highly popular perennial. It is a dense, multi-stemmed deciduous vine with clusters of showy, tubular red-orange flowers. 'Balboa sunset' starts blooming in April and blooms all summer long.

It is native to the eastern United States, but it's cultivated in the western parts of the US, Europe and in Latin America. You can grow it in the U.S. hardiness zones 4b through 10a. The plant can reach 30-40 feet in height, leaning on trellis, lattice or ladder. It has a twining and trailing growth habit and it grows at a very fast rate, but it usually takes five to six years to mature enough to bloom.
Trumpet wines are used effectively to bright up gardens and landscapes – they can beautify wide, empty spaces creating 'tropical feel', or be trained up a wall, poll, arbors and trellises around a patio, providing privacy. They can be used as beautiful cloak at gateways, or a mask for old, unattractive fences. Trumpet Vine is even suitable for erosion control on steep slopes because tends to grow on the ground when left without support. There are many landscaping ideas with trumpet vine, just find the perfect one depending on your own yard features.
Due to their rampant tendencies, self-sowing, and ability to sprout new growth from underground roots, trumpet vines are considered invasive. Though not on official lists of invasive plants, it has suckering growth habit. The vine's creeping roots can cause damages to nearby houses and object, so make sure you plant it at some distance from the house or other buildings.
Trumpet Creeper Care
This is one of those plants that likes being a slightly neglected. It is easily maintained and requires a minimum care. Just be sure to prune it regularly and properly and you will get the best out of this lovely plant. Under ideal conditions and an adequate care, 'Balboa sunset' Trumpet Vine can live for approximately 20 years.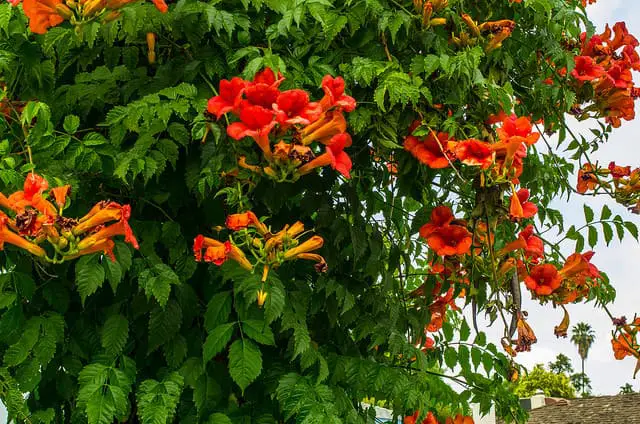 Be careful when handling trumpet vine since it can cause rash, skin redness and itching. Wear protective gloves when touching the foliage.
Soil and Fertilizing:
Trumpet vine adapts to almost any soil, except heavy and wet ones. It will grow well in medium, well-drained soil, but also in moist or dry soils that are composed of sand, loam or clay. It likes the soil that is acidic or only slightly alkaline. Trumpet vine doesn't even require a fertilizer –  the soil that is too rich can cause trumpet vines that do not bloom. Avoid high nitrogen fertilizers.
Light:
This plant loves the direct and intensive sun. It will grow perfectly under conditions that no other plant could handle, but if will prosper in a partial shade. Plant the Trumpet Vine in place with full sun exposure – warm and sunny place will encourage more flowers.
Watering:
During the first growing season you should follow a regular watering schedule, so you can water it thoroughly once in a week. Once an extensive root system is established, you can water it
occasionally. Trumpet vine has a high tolerance for drought.
Temperature:
Hardy to -30°F. The plant can be cultivated in the U.S. hardiness zones 4b through 10a.
Propagation:
Take cuttings from a stem with a leaf bud and leaf stalk and root them in spring. Keep the cuttings under warm and moist condition until the plant goes strong enough to be transported into permanent place.
Common pests:
Though the plant is highly durable, it isn't resistant to pests like scale insects, spider mites. whiteflies, planthoppers, and mealybugs. The slightly moist soil will keep pests away from your plant. If you have a problem with ants, paint the lower sections of the plant with a commercial product designed to make woody plants too sticky for bugs to climb. Do not use organic sprays with a soap because they can harm the vine, instead try to physically remove pests with a blast of water, in the early morning on a sunny day.
How to Prune a Trumper Creeper Vine
Regular and adequate pruning is about the only thing you should consider when it comes to trumpet vine caring and maintaining. It is an essential, too. To keep the trumpet vine within the bounds, prune it occasionally. Persistent and ruthless annual pruning is the only way to control the aggressive plant's growth.
Besides that, the proper pruning will stimulate the flower production. Vine Trumpet blooming occurs on new growth of the current season. That means that even the early spring pruning will not prevent the plant from its usual blooming in summer. The plant will regrow and bloom within the same year.
To control the plant's growth and to establish a strong framework for the plant, you should prune it severely in late winter or early spring, before first buds occur. Cut your plant to the ground, leaving only 8 inches of vine.
This drastic pruning will encourage the plant to produce a large number of root shoots. Shoots can appear several feet from the parent plant. You should pick several of them within the bonds – those that look healthy and strong – and let them mature. Dig and remove all unwanted shoots immediately.
Remove all unhealthy wooden stems and trim the plant's tops to keep it within a framework. To add a vertical interest to the landscape, consider minimal trimming.
Buying Trumpet Creeper Vines Online
If you are looking to purchase trumpet creeper vines online, and would like to support the work we do at Garden Analyst, simply use the links below to search for trumpet vines online.