Growing your own vegetables for healthy food intake is a common trend these days. There is a sense of satisfaction when you put the time in to tend and care for a crop, and then when you pick them. What if you find out during harvest that all the fences and barriers you have placed to keep out critters have been in vain?
One of the velvety green culprits, which can devour your crop, especially crops from Brassica or cabbage family is the notorious cabbage worm. To resolve this problem, we are going to give a complete detailed look of the cabbage worm. What is the life cycle of cabbage worm? How does it damage your crop? How can you prevent cabbage worm attack in your garden? Read on to find more about this pesky critter.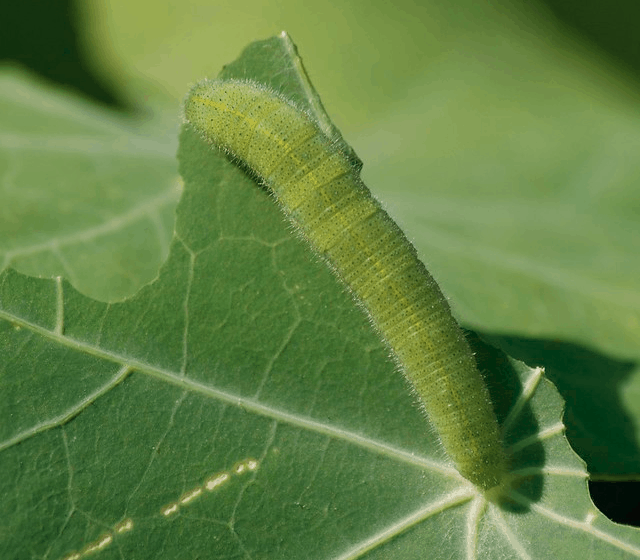 What Are Cabbage Worms?
Cabbage worms or imported cabbage worms (Pieris rapae) are velvet green in color. The cabbage worm is most common in Europe and Asia. It attacks Brassica family members such as cabbage, cauliflower, kale, broccoli and other members of the cabbage family. A small hole in the leaf by cabbage worm does not cause any harm to plant but it can cause damage during seedling formation. Later in the growing season the worm can immensely damage the crop. The adult cabbage worm morphs into an adult butterfly, also known as "Small White" or "Cabbage White".
Life Stages Of The Cabbage Worm

The cabbage worm adult butterflies (1-2") are white or pale yellow in color with 3-4 black spots on wings and can be seen in the garden from early spring to late fall when they emerge from the green worm pupae. These butterflies look pretty in the garden but can be destructive for your crops. They lay small yellow eggs (up to 200) underside leaves and are difficult to get caught easily due to their excellent camouflage ability. These eggs hatch in 7 or more days and develop into larvae. Cabbage worm larvae are velvety green (about 1.25") with faint yellow strips and five sets of pro-legs, different from yellow-green cabbage looper. Cabbage worms develop into pupae after feeding 15 days on the crop. The pupae under lower leaf spaces, after 10 days develops into an adult butterfly in late spring. There can be 3 to 5 or even 8 overlapping generations during the whole year. If you see these butterflies around your garden, be weary!
Plant Damage from Cabbage Worms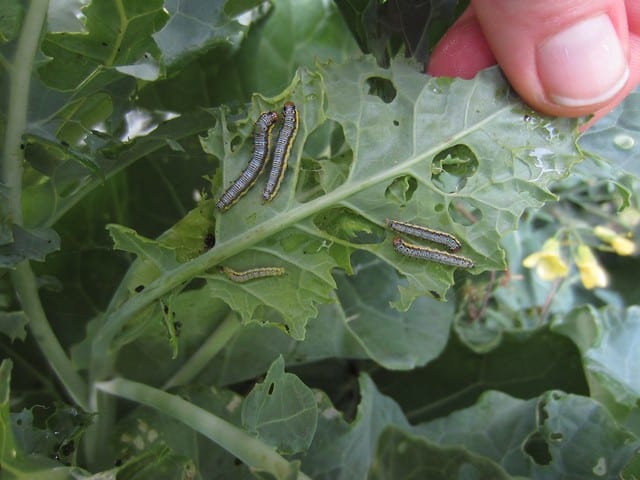 The cabbage worms feed on leaves of the Brassica family crops and leaves tissue-lik and translucent scars. When these larvae grow, they chew more and create a number of holes on the leaves. The cabbage worm contaminates the crop with fecal matter and dark green pellets in the center of cabbage and/or near the stem.
How To Control Cabbage Worms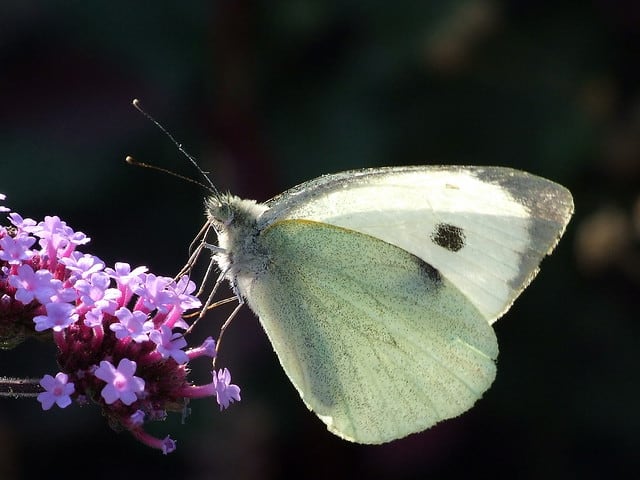 When you see white adult cabbage worms in late spring, try to cover your crops and regularly check and inspect the underside of your crop leaves; if there are eggs then remove them. You can also install PVC piping, bamboo or metal taller than the fully grown crop. After planting seeds or seedlings, cover the surrounding plant with fabrics from all sides and place a rock or any other weight on the outer edge of the fabric to keep it in place. This will help limit the worms from gettign access to the plant. Be sure to allow enough loose fabric to allow the plant to grow – or adjust as time goes one.
If your precautions do not work, then try to control cabbage worm by the following measures:
Bacillus Thuringiensis
Bacillus thuringiensis, also known as B.T., is a natural pesticide to kill cabbage worms. Apply the spray during the late afternoon every 1 to 2 weeks until you notice there is no more damage being done to your garden. I strongly recommend using this product if you are seeing serious damage to your plants. It has worked flawlessly for me in the past to remove the worms and control any issues.
Worm Traps
Yellow sticky traps will help you to catch adult cabbage worm and other similar insects due to their color. Pheromone trap is also an effective way to catch cabbage worms. Just be careful as the traps can also kill beneficial insects.

Cornmeal and Rye flour
According to the traditional method of controlling cabbage worms, rye flour sprinkled early morning will end up dehydrating them and killing them. The application of cornmeal on damp/wet leaves will trick the worms to feed on the cornmeal; which will result in the cornmeal swelling in their bodies and therefore will die.
Predator wasps
Tichogramma wasps, spiders, yellow jackets, ground beetles and braconid wasps can be used effectively to prey against cabbage worms.
Intercropping
Companion planting or crop rotation is also a beneficial and productive method to control cabbage worm attack in your garden. Companion plants efficient against cabbage worms are thyme, garlic, Allium, tomatoes, borage, onion, rosemary, tansy and nasturtium.
Tilling
Tilling is also a result oriented technique to clear and destroy eggs or pupae of cabbage worms.
Organic and Homemade Techniques to Control Cabbage Worms
Neem oil and garlic spray
Neem oil and garlic spray are also perfect remedies to control pesticides. Both are effective pesticides used to prevent a number of pest attacks. Neem oil makes a layer on the leaves of crops and prevents worms to feed on them due to their bitter taste. You can read the detailed recipes of neem oil spray and garlic oil spray at homemade natural pesticides article.
Repellent spray
Take horseradish, hot peppers, onion, mint, garlic and mineral oil in a blender and blend them to combine fairly. Add an equal amount of water and strain this mixture. Sprinkle solid mixture under plants and pour the liquid into a spray bottle. Add one tablespoon of liquid soap in a spray bottle and spray on the plants along with watering.

Citrus spray
Citrus spray is also effective to control the cabbage worm attack. Grind citrus seeds and rind and soak them in 2 cups of water overnight. Strain the pulp from the liquid and add 2 teaspoons of gentle liquid soap in it. Mix and pour them in a spray bottle for application.
Methods used to control cabbage worms, cutworms, looper worm or diamond back moth, are similar. Also, see how to control cutworm infestation for further details.